Thinking about whether to sightsee Tehran on your trip to Iran? Oftentimes travelers decide to skip Tehran, only staying in Iran's capital long enough to transit. Although Tehran is undoubtedly crowded polluted and a concrete jungle, the city of 20 million has more than 2,000 years history and a really edgy feel, that is uniquely Tehran.
If you want to experience the beating heart of Iran to its fullest potential, do yourself a favour and spend at least a day buzzing around the city. In this article, we uncover 7 easy, affordable, and memorable things to do in crazy Tehran.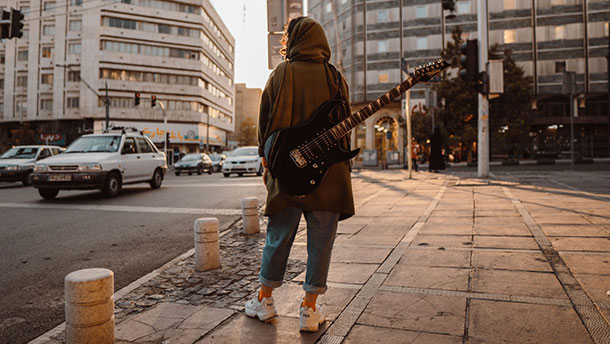 Wander through old streets
Take to the footpaths and wandering through this metropolis where the old and the new world meets. from the glittering Golestan Palace and the award-winning Nature Bridge to the renowned Grand Bazaar and the much-celebrated Treasury of National Jewels. But that's not all, you can also drop by at one of the city's excellent museums and serene gardens, or contemporary cafes, you can relax and enjoy all the goodies in Tehran. Here you can find any accommodation for any budget in Tehran: Tehran hotels
If you're thinking that going to arduous road trips might be something like a near-death experience, there's something you could do to experience the pure social fabric of Tehran in an entertaining way.
You simply need to go on a wandering journey.
Instead of taking a taxi or heading a few stops on Tehran Subway, why not get your walk on and see what you come across?
Street food, boutique hotels, traditional shops, and hidden bazaars, there really is no shortage of things to do in Tehran! You can fully expect a great many people to stop you and thank you for visiting Iran and to question your experiences so far. Besides, Most of the things we mention here are pocket-friendly and easy to do, so you won't miss anything wandering through these wonderful sites.
Golestan Palace (Kakh-e- Golestan): a UNESCO World Heritage Site
Thanks to a great combination of Persian craft architecture with Western influences, the incredibly lavish Golestan Palace is one of the sites which have been awarded UNESCO World Heritage Status.
The Palace is said to be the oldest building in Tehran and when the Qajar family came into power here in 1779, they made Tehran the capital of Iran – where it has stayed ever since. Glorious and outrageously excessive the Golestan Palace is one thing to do in Tehran you absolutely cannot skip.
What makes Kakh-e Golestan a renowned and well-respected attraction is the character of Qajar rulers which have played out across this complex of grand buildings decorated with beautifully colored tiles, surrounded with an elegant garden that's worth hours of visiting.
Some sections of the site require separate tickets, which you need to buy at the gate: the ones worth paying extra are the Main Halls, which includes the spectacular Mirror Hall, and the Negar Khaneh (Iranian Painting Gallery).
If you truly want to touch the history of the Iranian Art and culture, visiting Golestan Palace would be a great start for a pleasant trip to Tehran. if you're looking for a tour to the north of Tehran. check out this article: north Tehran tour
Naser Khosrow Street: a time machine for tourists
Once you step on this street, you will be greeted with the grand history of the old Iran. It's basically a time machine that can transform you into the past. Naser Khosrow has some of the most iconic landmarks in its heart. seek into the past by first passing Darolfonoon School, Iran's first modern school developed by Amir Kabir, a prime minister of Iran in 1851.
The gothic architecture of Saraye Roshan, one of the first commercial centers is further along the way and will surely stand out as extraordinary. What is waiting to be known as the twin towers of Shams-of-Emareh peeking out from behind the buildings, and right across the street is where lies Marvi Alley Bazaar, a great place for visiting traditional boutiques and delicious street food stores.

Roshan Passage (Saraye Roshan)
A mysterious and captivating place for visitors, Roshan was Built in 1932 as one of the first commercial centers of Iran. this gothic-inspired building is strikingly gloomy in the setting of Iran and the faces or statues of the exterior resemble reminiscent of European architecture.
What makes this place magical is its unique shapes and architecture, most of which are the symbol of Zoroastrianism and Ahura Mazda which date back to the Persian myths and chronicles. if you are looking for a budget-friendly hostel in Tehran, check out this article: Tehran hostels.
Saraye Roshan is an enrapturing historic building which can show you the pure flavor of Persian Artistic. It is in fact very unlikely that you stumble upon this passage and not take off your camera to snap a photo or to utter a word like, "Magnificent!"
US Den of Espionage (13th Aban Museum)
Formerly known as the Embassy of the United States in Tehran, this Museum is where you can see the masterpieces of "Seyed Ali Akbar Sanati", a contemporaneous famous and skillful sculptor and painter who has painted more than 600 works of art.
13th Aban Museum is under the authority of "Helal-Ahmar" and all its income is used for the deprived and homeless people living in Tehran. This museum has a pretty intense background in which 52 diplomats were taken hostage for 444 days by students during the 1979 revolution of Iran.
Today, the massive compound is still controlled by the Student Basij Organization, intending to defend the revolution and have turned the building into a museum. Be sure to take the free tour to really make the most of the colorful propaganda both visually and verbally. It will be undoubtedly a fascinating opportunity to see the secret rooms used for spying now embarrassingly on full display and to get a real sense of the work undertaken in the US embassy before the revolution. It's like walking back in time and straight onto a movie set!
Treasury of National Jewels
The National Jewelry Treasury is housed inside the Central Bank of Iran. Here you will find the most astonishing gathering of gemstones and adornments on the planet. The Crown Jewels of Iran have been minimal in excess of a legend previously. Explorers wondered about the magnificence encompassing the shahs of antiquated Persia; yet few were allowed to look at it in any detail. Presently the most terrific items have been set on open showcase and frame one of the nation's important vacation spots.
Possessed by the Central Bank and got to through its front entryways, the enormous vault that houses what is regularly known as the 'Gems Museum' isn't to be missed. The Safavid, Qajar and Pahlavi rulers enhanced themselves and their possessions with an amazing scope of inestimable diamonds and valuable metals, making this accumulation of bling actually stunning. Star pieces incorporate the Globe of Jewels and I realize that
Naderi Café: Tehran nightlife
Naderi café and hotel were built in 1927 by an Armenian immigrant called Khachik Madikians. He started his career in Tehran with baking confectionaries first and then using Naderi restaurant to introduce Iranian people to the European foods for the first time in town.
this crayon-shaded cafe has long been a favorite destination for those wanting to try the taste of the old cuisine of Tehran. The setting of Café Naderi has attracted a curious mix of students, artists, and grannies in an atmosphere that resembles 1950s Paris. Don't be surprised if you are faced with a sea of nostalgia when looking at the interior of this phenomenal place. The menu has kept the legacy intact and the food is a lot more different from what you see in other cafes and restaurants in Tehran.
Another interesting feature of Naderi café is the inclusion of a special place for its regular visitors. People just sit there from early morning to late in the night reading and writing poems, drinking tea and smoking cigarettes. Guests can sometimes enjoy the traditional live music along with a narrator reading gothic stories and myths of Iranian history.
OVER TO YOU
Tehran may be one of the best-valued cities in the world for travelers but for some, those euros can start to run out after days of sight-seeing. Fortunately, there are plenty of ways to stretch your budget much further by cashing in on some tip-top freebies; Wandering through the places we have introduced, can be a great way to have the best time of your life in Tehran.