What's better for changing somebody's mood than a reuniting camping trip back to where we all crave so much; nature. As refreshing and self-reviving as that might sound, camping trips in Iran are not made for everybody and anyone who buys an Osprey Ariel Backpack and stuff it with the essential camping gears is not going to have the time of their life; a small misstep or bead of wrongly interpreted geographical information can end in a camper being chased by a roaring bear through the never-ending jungle in the north or a climber finding themselves drinking from a shallow spring while a brown mountain wolf is curiously looking down on them and thinking to himself, that's a juicy breakfast for me and my entire horde. For this reason, and for you not to wind up in a near-death experience, we have gathered a list of the best camping spots in Iran widely approved and popular that pose no threats to outdoor adventurists.
Camping in Iran is free and legal and exceptionally fun, particularly for blue-eyed blond-hair tourists in Iran who receive the best services and Persian hospitality.
Shomal 
Iranian weekend (Thursday and Friday) are close and you sense the excitement and hype of younger Iranians in the air. It's time for them to start their car-engines and head for Shomal and by Shomal, what we really mean is wild camping sites near exotic villages deep in lush forests of Damavand or in national parks and on the coastal lines of Golestan, Mazandaran, and Gilan provinces. Not to forget, Chalus road (Jade Chalus), the ace of Iranian roads is responsible for most of these camping trips too.
Also check out: Chalus Road; The Ace of Iranian Mountain Roads
Damavand Eco Camp
On the north-east face of the only volcanic mountain in Middle-East, Mt. Damavand, lies one of the best camping spots in Iran and well-equipped mountaineering complexes – Damavand Eco Camp. This compound provides all the necessary amenities and services required for a successful ascent to the summit. On this side, the climb to this 5,619 meters high cone volcano usually starts with climbers and campers driving up to the base camp of the complex in Nandal village at 2300 meters altitude where they receive delicious meals and find anything they need. The magnificent beauty of the mountains and the lands at its foot are just beginning to show themselves at this range. At the altitude of 4500 meters, mountaineers will come across the second camp, the Advanced camp, for a good night's sleep and to restore their energy. Many foreigners describe the services provided to them in both camps over-the-top and state that ascend to Mt. Damavand felt way more easier thanks to Eco Camp crew who go out of their way to professionally help climbers, even those having trouble with trekking.
You may also read: Iran's Secret Backpacker Destinations
Azou Plains, Heaven at The Foot of Damavand
On the foothills of Damavand, the lush pasture of Azou plains awaits whoever wants to get away from the busy life of Tehran and spend a night or two in the heavenly-green plain with a perfect view of snow-covered Mt. Damavand. The 360-degree panorama view of the area brings the weary campers from Tehran and other areas to an immediate silencing mode and pause in the thoughts. The allure of Azou plain doesn't end here, fortunately. The stay on the foothills of Mt. Damavand in velvety green grass dotted with colorful short-stemmed flowers blows the sense of pride in relief into the faces of not only Iranian campers and guests but whoever wishes to totter in true natural beauties of Iran.
The surrounding landscapes hide another surprise too; A small village tucked in between to gently-sloped valleys with multi-hued rooftops that makes you think a naughty child has mischievously colored the tile on his coloring book in yellow, orange, and other lively colors. The one-of-a-kind shy and beloved villagers welcome travelers with big smiles and invite them to their houses openly making anybody feel like home. This is why Azou plain is one of the best camping spots in Iran and many people drive over two hours from Tehran to once again feel connected to nature in this unworldly lush pasture.
Masuleh village
Masuleh needs no campers and nature-friendly tourists to be called one of the most mesmerizing villages in Iran; that it can do all by itself. With an ancient Persian architecture similar to Uramanat village in Kurdistan – houses on top of each other on slopes of a mountain and vast green forest nearly trespassing into the villagers' homes – Masuleh village is dubbed unmatched heaven for tourists. What makes this charming village even more potent for travelers, it's the vast forest park at the foothills of the mountain automatically creating suitable places for tent popping and converting the area to one of the best camping sites in Iran.
You may also read: Experience Iran's Lush Wilderness in Gilan
However, camping inside the village is strictly banned so that the villagers can find some rare moments of peace and quiet when the tourists vacate the village after a long day. Being located in the forest park allows all campers to closely observe the flora and fauna life of northern jungles in Iran with a draw-dropping view of Masuleh village in the night covered in light bulbs.
You may also read: Exotic villages in Iran
Nothing is impossible in these areas. Misty clouds floating down to lower parts of the forest park and encrusting the trees and the village in a grade shade while the tranquility of the forest nearby blows the mind are just some of the side effects of camping beneath Masuleh village, one of the best camping spots in Iran and Shomal.
Golestan National Park
Starting in the middle of Golestan province, at the far eastern parts of the province, where its border meets the North Khorasan province's, Iran National Park's geographical territory comes to a stop, marking it as Iran's most vast National Park and home to hundreds of wildlife species. Governmentally-constructed camping sides are hailed as milestones in improving the situation for wild-life lovers to experience wild and sometimes, rather dangerous camping experience in these parts of the country.
You may also read: A Brief City Guide to Less known Destinations in Iran
Kurdistan & Lorestan
The western parts of Iran have always been victims of Shomal and less favored by domestic or foreigners in the past few years. Nomadic tribes, untouched landscapes, steep-slope villages, naturally evolved lakes, the lush foothills of numerous Zagros mountains, and of course, the intriguing and complicated history of the earliest tribes that migrated to these parts – like the Meds – make them ideal for campers and the provinces of Kurdistan and Lorestan provinces some of the best camping spots in Iran.
You may also read: Nomadic Tribes in Iran
Uramanat village
Courtyards built on top of another house's rooftop isn't something that anybody usually comes across, even if they're famous globe-trotters on a few years' journeys away from home who thinks they've seen it all. Luckily, a camper in Iran is bound to witness this, the ordinary lifestyle of the residents of Uramanat village in person. This scenic village built many years ago on the slopes of Zagros mountains is a prime example of what Kurdistan province has to offer.
You may also read: Your Guide to the Best Beaches in Iran
You can set up camp near this unique village to enjoy the unmolested greenery that covers the areas in full and go through the night with a cup of hot traditional Persian tea and a relaxing lay-back under the dome of the night sky. In the morning, you can pack your bags and head into the village where the minority of Kurd people live. Their journey to Uramanat village will give you a better yet different understanding of life in Iran in terms of social behavior, political standings, architectural aspects, and religious beliefs.
You may also read: A Backpacker's Guide to Iran
Gahar Lake (Lorestan)
After tiring couples hours of trekking and hiking steep and twisty mountainous roads with the occasional snowy background of Zagros peaks creeping up to your sight at the end of a pass, the slow descent to the shore of Gahar Lake and its diamond-blazing surface washes out the hardship you've just sustained.
Gahar is located beside the Oshtorankouh massif in the Zagros range in the province of Lorestan. It is 2360 meters above sea level,1700 meters long and 500 meters wide. The depth of the lake is 28 meters maximum. The area is one of the few ones in Iran that has been under good protection lately so the environment and flora look almost virgin.
You may also read: How to make traveling to Iran easier
Ardebil
Who says the north-eastern provinces of Iran are only about blistering cold and Iran Turks people talking Azeri dialect, something that a Fars can never hope to understand on his own? In these parts, the wildlife and natural marvels are rivals with eye-catching man-made cities such as Tabriz or Ardebil to prove themselves to attract the most travelers.
You may also read: How to Experience Everything in Iran in 1 Week
Dorna Eco Camp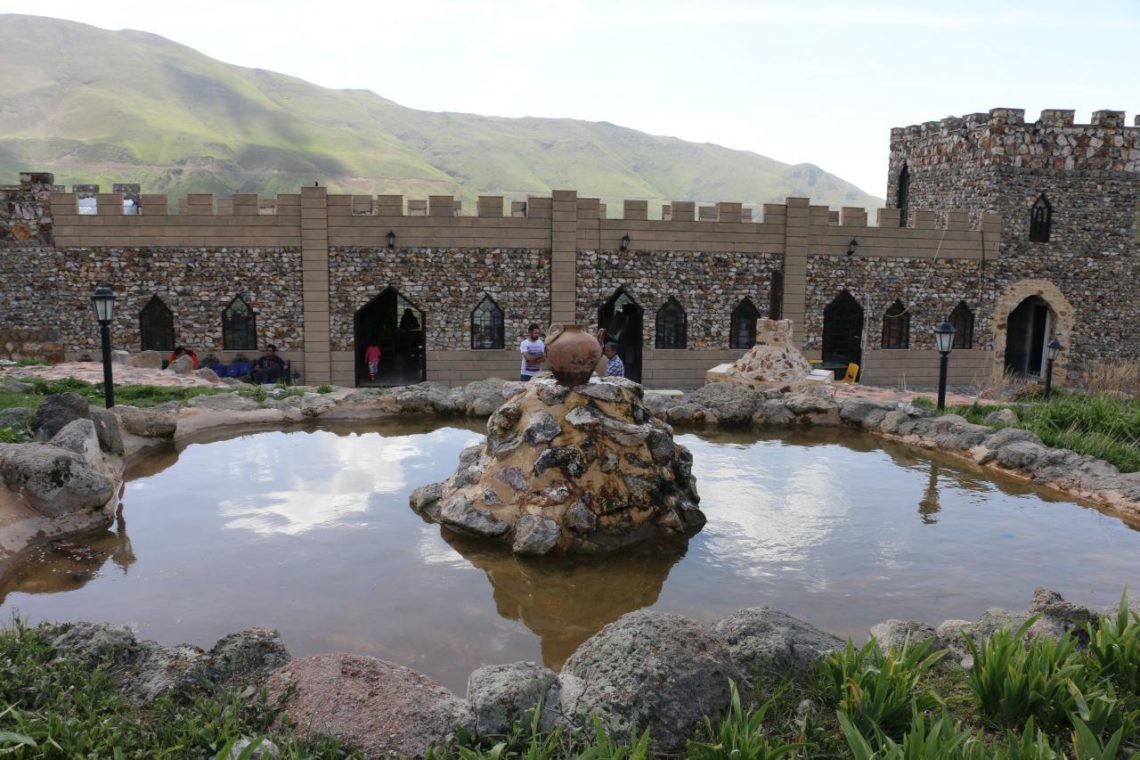 If you're interested in camping and can cope with the limited amenities of a campsite on the magical hillsides of Sabalan mountain in Ardebil, then you're definitely in for a once-in-a-lifetime experience at Dorna Eco Camp. Here, nothing is out of reach; the chance to explore Shahsavan tribe rituals, visit the untouched nature and green life surrounding the mountain, have a tasty rural dinner and feel firsthand the grandeur and the splendor of Ardebil's outdoors. Traditional dairy products made in the rural area – like homemade butter, cheese, bread, honey, fresh milk, and Sar Shir decorate the breakfast table in Dorna camp. This is the best place to reconnect to nature and ravish in natural aesthetics still unknown to many people, even locals.
You may also read: Iran's Best Ecolodges 2019
Dorna Nomadic Eco-Camp, in the magical hillside of Sabalan and in an area of 5 hectares with combination of traditional and modern architecture, using local and stony materials, inspired by the history and culture of Azerbaijani Turks and Shahsevan nomads has been designed and built in such a way to avoid damaging the environment and the region's biodiversity.
There are 3 types of rooms. The Habits room comprises of 2 rooms suitable for 2 people with a Persian style toilet. Beds are all single.
Meshkin Shahr is 839 kilometers from Tehran, near the Sabalan Mountains so it enjoys a moderate climate. Sabalan's summit can be seen from the south of the city with eye-catching scenery. The antiquity of the city dates back to the early centuries of the Islamic conquest but in the Safavid age, it thrived even more and today thrives as one of the best camping spots in Iran.
You may also read: Cycling in Iran
Isfahan
Iran is a country consisted of intricate wildlife, diverse geographical landscapes, and mountains and deserts stretching from one corner to another crisscrossing each other at several points creating unbelievably amazing natural phenomena and surreal stunning sights only visible to those who truly open their eyes and seek them out; some of which can be located in the historical province of Isfahan.
Varzaneh Kavir
Only ten minutes away from Varzaneh city in the heart of Isfahan province, no one ever feels in danger while camping in this uninhabited desert (Kavir) in the center of Iran. The fewer the people you travel with, the better you'll experience will be in Varzaneh Kavir. This much-photographed sightseeing marvel in the heart of the desert gifts adventurers with unbelievable sunset views. The overwhelming of sandhills, the ever-lasting silence of the baron lands, and the shifting sounds blurring the image of the desert are to-die-for characteristics for everyone who has a sweet-tooth for Persian deserts.
You may also read: Iran Desert Tours – 5 Desert Destinations for Your Bucket List 
Some other places for you to spot near Varzaneh Kavir:
You can see one of the most traditional and initial ways to get water from well. It works with a huge cow who moves and pulls the windlass, but he never starts moving unless the old man he knows sing a song.
Here is a place for grinding wheat. For this to happen, a slow-walking camel moves the grinder and produces the flour.
Karbafy is a traditional textile industry, which is common in Varzaneh and villages around. This handmade gets woven by women in various designs and colors. In Varzaneh you can find them strips and blue.
The ancient Ghurtan old citadel is located 12 kilometers west of Varzaneh, and you can reach it directly from Isfahan, being 90 kilometers east of Isfahan city. It's located on the bank of the Zayanderud river and has survived natural disasters and many wars for 1000 years. Having very thick walls made of adobe mud brick) made it a protected complex for people living in the region. The thickness of the walls varies from 3 to 4 meters and they are about 9 meters high. The citadel has an area of 40,000 square meters. Nowadays, only four families are living inside. The citadel contains four mosques, a pigeon house, a water reservoir, a mill, and many houses. It is protected by fourteen round towers and you would enter by two gateways.