Calling all intrepid travelers! Do you want to explore off the beaten track?
Iran is a huge country with infinite places to discover. First time travelers to Iran usually stay within the central provinces and visit the historic cities of Tehran, Kashan, Isfahan, Yazd, and Shiraz. These places are popular for good reason. Established tourism infrastructure together with beautiful sites, historical monuments and picturesque architecture guarantees a good time. This is the quintessential Iranian tour, giving you a taste for Persian life over the ages. Here is the list of Iran's best Secret Backpacker Destinations.
But for those looking for a less vanilla Iran trip, this article is for you. As an emerging travel destination, Iran still has plenty of amazing spots that are virtually untouched by tourism.
Escape the tourist traps and experience the beating heart of Iran at these secret destinations.
Before we go on…
 Have you arranged your Iran tourist visa?
Most incoming tourists need to apply for a visa to enter Iran. You can apply for a visa on arrival but we recommend applying in advance. For as little at €19 1stQuest will apply for your Iran tourist visa for you. Most applications get approved within 3 days! For more information about Iran visa and application form, visit 1stQuest.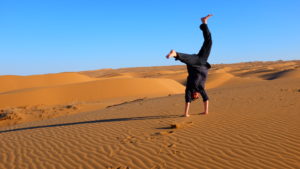 Frolicking in the Maranjab Desert, Iran
Maranjab Desert, Isfahan Province
 On my first trip to Iran, I was lucky enough to visit the Maranjab Desert. Located about 60 kilometers outside of Kashan, a Maranjab visit is doable as a day trip or as an overnight experience. MAranjab is among Iran's best Secret Backpacker Destinations.
If you get the opportunity, staying overnight in one of the Maranjab's caravanserais (traditional style desert lodging) is an amazing experience. For thousands of years, caravanserais in the Iranian deserts have hosted foreign travelers and merchants. Sleep out under the stars in your own desert fortress and ponder how many have done the same before you. The caravanserai where we stayed even had an oasis style swimming pool. The local guys gave us ladies privacy to go swimming and cool off after a long day of desert trekking. Bliss!
If you're in Kashan, you can ask around about Maranjab Desert tours. Or contact 1stQuest to arrange a reputable tour in advance. Often times drivers will take you to Nooshabad Underground City and some other interesting places along the way.
Looking for more desert options? See 5 Desert Destinations for Your Bucket List.
Qeshm Island, Persian Gulf
Qeshm is the largest of the Persian Gulf Islands and is not often frequented by international tourists. Qeshm, with its minimal fresh water and sparse vegetation, kind of feels like a chunk of the desert has been dropped into the ocean. Don't let this description fool you, Qeshm, spanning nearly 1,500 square kilometers, well and truly has its share of amazing sites you won't forget in a hurry.
Qeshm Island is among Iran's best Secret Backpacker Destinations.
An absolute must visit is the Valley of the Stars. The fading light of the late afternoon will illuminate the valley's harrowing rock formations in a way that is worthy of an Instagram post or two. This valley could be described as Qeshm's Grand Canyon and be sure to allow at least a couple of hours to scamper around the site. Admission is cheap as chips but check with the locals (or online) for opening hours before making the 25-minute drive from Qeshm city center. See more things to do in Qeshm and Hormuz.
Zeytoon Park, just outside the main township on the eastern end of the island is a lovely spot to check out. Amongst date and pandanus palms, Iranian families picnic, barbecue and camp out overnight. The adjacent beach, diving school, and tennis club provide activities if you feel the urge. I found a cozy day bed overlooking the water where I enjoyed Iranian brewed tea and hookah. Several decent restaurants with sea breezes and views neighbour the park.
Other Qeshm gems worth checking out are:
the Hara forest – when you arrive, ask one of the locals to take you for a boat tour through the thickets of the Hara (mangrove) forest.
Naz Island- is accessible by foot at low tide and is a hot spot for collecting seashells, spectating a beach drag race and going for a camel ride.
Namakdan Salt Cave- the world's longest salt cave but not a place for those who are claustrophobic.
Hormoz Island, Persian Gulf
Hormoz Island, just to the east of Qeshm will delight those who dare to venture there. I first heard of Hormoz from my dreadlocked, yogi friend who in all seriousness declared, "Hormoz will change your life!"
Hormoz is a real hotspot for hipster Tehrani kids who want some time off the grid. Think free camping on the beach, vegan cafes and impromptu drumming circles with new friends from every corner of the globe. If you're prepared to rough it catch a ferry over from Bandar Abbas or Qeshm and settle in for a few days.
The Red and Silver Beaches are the best ones to visit, with phosphorous sparkling waves (silver) and iron-rich (red) sands. Hiking, exploring salt caves and swimming in deserted beach coves are on the cards for travelers to Hormuz.
Tourists often choose to camp along the beach but you can also book Hormoz hotels and hostels online for reasonable prices.
Palangan, Kurdistan Province
Close to the border with Iraq, in Kurdish heartland, you discover another side of Persia.
The village of Palangan with its population of 800 is probably Iran's most vertical village. Each house's roof is utilised as the yard for the one above. Wedged into the mountains at an insane angle, the village would have been protected from invading forces in years gone by.
Palangan is among Iran's best Secret Backpacker Destinations.
An icy cold river fills the deepest crack of the valley below the village. You can follow the river to where it spills out into rolling green hills where Palangan locals take their herds of sheep. The river is chock-full of fish so be sure to try fish at a local restaurant during your Palangan stay.
Shushtar, Khuzestan Province
Shushtar is a fortress city famous for its UNESCO listed hydraulic system dating back to 500BC.  Demonstrating the engineering genius of the Elamite people, the hydraulic system creates two main diversion canals. Not only practical, but the system forms a spectacular cliff of cascading water which then gets channeled to over 40,000 ha of farmland downstream in the agriculturally rich Khuzestan province.
Shustar is among Iran's best Secret Backpacker Destinations.
These ancient people were building sophisticated engineering infrastructure that has survived over 2,500 years! How many of our modern hydraulic and irrigation systems will be in place in the year 4,500? Hard to imagine, isn't it?
In ancient times the city of Shushtar was an island on the Karun River. Nowadays the city spreads well beyond. Shushtar is home to a bunch of places that will interest international visitors. Check out the Khan Garden, take a cruise of the Karun River or chill out at the Tarmeh Coffee Museum.
Located less than 1-hour drive from the city of Ahwaz, travelers can take a day trip to Shushtar or stay the night at the quaint Tabib Traditional Hotel.
Kandovan, Azerbaijan Province
The historic village of Kandovan is famous for its houses, built into and around unusual rock formations which are believed to be formed from ancient volcanic eruptions. Kandovan is one of Iran's Secret Backpacker Destinations. Kandovan is among Iran's best Secret Backpacker Destinations.
Similar to the rock houses of Cappadocia in Turkey, the inhabitants of Kandovan (who also identify as Turks and speak their own version of Turkish) have lived in and amongst the rocks for almost 1,000 years.
You can easily spend a few days or two wandering around the village and exploring the surrounds. Locals are likely to invite you in for a cup of tea and a chat. The Laleh Kandovan Hotel is the pick of local accommodation and identifies as the third largest cave hotel in the world! Spend the night literally inside the rock cave. Located just an hour outside of the city of Tabriz, Kandovan is a hidden gem.
Looking for a flight to Tabriz? Check out Iran domestic flights prices through 1stQuest.
What next?
Here we introduced Iran's Secret Backpacker Destinations, Keen to do more reading on Iran's best holiday spots with a difference? Check out:
For all your Iran travel needs, 1stQuest is here for you! Hotel, flight, bus and transfer bookings all in one place. Conveniently pay online using credit card through our secure gateways. See what's on offer at 1stquest.com.