During the Obama administration and in the wake of the Nuclear Deal, Iran was turning into a popular holiday destination. Even Britain removed their travel warning for Iran subject to what they announced as "decreasing hostility under President Rohani's Government". During this time, everything changed for travelers and Iranians alike. Improving international relations meant Iranians themselves could travel more freely and foreign tourists felt safe visiting Iran.
However, as we all know, the days of the Obama administration are behind us. The US government has issued a regulation restricting visa-free entry to the US for travelers who have visited several countries, including Iran. This policy decision has put travelers who want to visit Iran and the US, in a tight corner.
Also check out: Iran e visa
If you are here, reading this article, you are probably interested in visiting Iran, but not sure of the long term consequences of your Iranian trip. The article examines the new regulation and suggests ways to circumnavigate potential roadblocks.
The US regulation states that citizens of 38 countries (America's closest allies) do not need to apply for a visa before entering the US. Citizens from these countries qualify for the US's Visa Waiver Program (VWP). VWP passport holders only need to get a pre-travel authorization through ESTA (Electronic System for Travel Authorization) system. The authorization, valid mostly for two years, let's passport holders from these countries enter America without a visa. However, a new eligibility requirement for travel to the US has been added to the program.
Also check out: Iran visa on arrival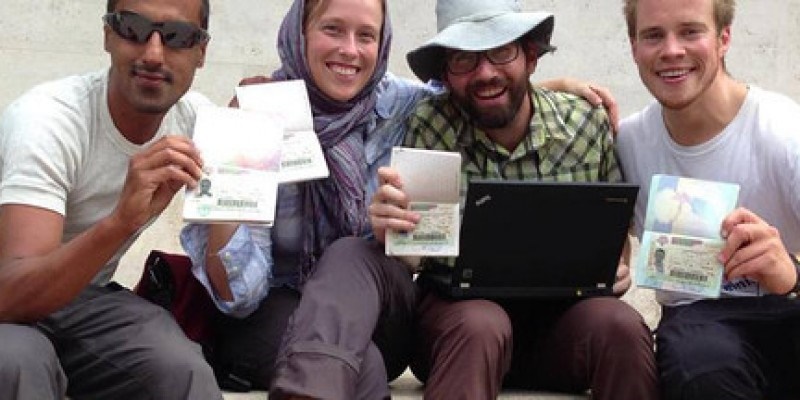 Now, VWP nationals cannot travel to the United States without a visa; if they:
have traveled to or been present in Iraq, Syria, Iran, Sudan, Libya, Somalia, or Yemen at any time on or after March 1, 2011 (with limited exceptions); or
are dual citizens of  Iraq, Syria, Iran, or Sudan.
Rigorous, isn't it? But you don't need to worry. It isn't as bad as it sounds. For more info, read on.
Although these regulations prohibit VWP nationals who have visited Iran from applying for an ESTA, these travelers are not totally banned from traveling to the United States. They can apply for a visa in any US Embassy or Consulate. We understand that the process involves and interview and, in most cases, they get their visa. David from Australia wrote in a travel forum about getting his visa one year after his trip to Iran. He mentions that the process is simple and straightforward, you need to apply for the visa online and then do an interview in the nearest US Embassy.
Also check out: Iran visa fee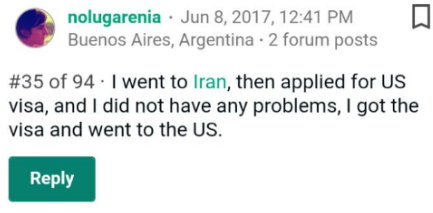 Also if you have a valid US visa (valid for 5 to 10 years) or you have already applied through the ESTA system and your request has been approved (valid for 2 years), you may not have to apply for one again after your visit to Iran.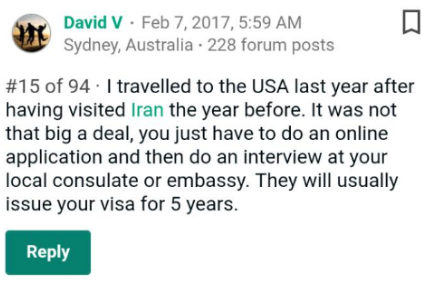 Some people worry that an Iranian visa or airport stamp in their passport will cause problems for future travel to countries, other than the US. In 2018 Iran tourism authorities announced that they will no longer stamp passports of tourists visiting Iran. Piloted in Tehran, Shiraz and Mashhad's International airports, the decision has been made to encourage travelers to come to Iran. The decision, together with the Iran currency's low value, would encourage tourists to visit the country even more than before.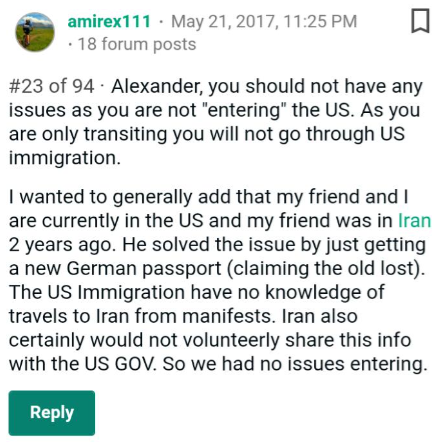 Travelers just need to have a copy of their authorization number confirming that they have got their visa and the entry and exit stamps would be put on this document rather than their passports. However, note that you need to have the document with you wherever you travel in Iran.
Do you want to get your visa in 2 days without any hassle? 1stQuest will take care of all the process with best support. It`s cheap, easy and the chance of rejection is almost 0%.
If you would like any additional information, contact us or leave a comment below.
*Updated by Alison Lovell