Iran visa is not a new regulation or a new type of visa. It's just a new service/department in the Iranian Ministry of Foreign Affairs (MFA) that already provided by travel agencies online or offline for years. Here's what you need to know about it.
What is Iran e visa?
Traveling to Iran needs an authorization code (visa reference number) for most nationalities. To make getting visa easier especially for tourists, Iranian MFA has launched its own electronic visa application called e-Visa in early 2017 to facilitate submitting for an authorization code.
NOTE: After receiving an authorization code, you can collect your visa either at an Iranian embassy/consulate or at the airport -in case of applying for a visa on arrival- you've stated in the application form.
Secure your  Iran visa with only 19 EUR Through 1stQuest
Read Also: Iran visa for American, British and Canadian Travelers
How can I apply for an Iran e visa through MFA's website?
Applications must be made online in Iran ministry of foreign affairs website.
NOTE: Depend on your nationality, and also because of high response time and high probability of rejection, it's recommended to apply no less than a month before the date of travel.
You need to provide a digital personal photo and a digital image of your passport that meet the specifications listed on the MFA's website. You can check them using this tool and make sure they will be accepted by the application before the start. The application process has 5 steps.
Apply for Iran visa through 1stQuest:
 Step 1: Personal information. It includes the first name, last name, Father name date, Gender, Birthdate, and place of birth, occupation, etc.
Also check out: Iran visa application form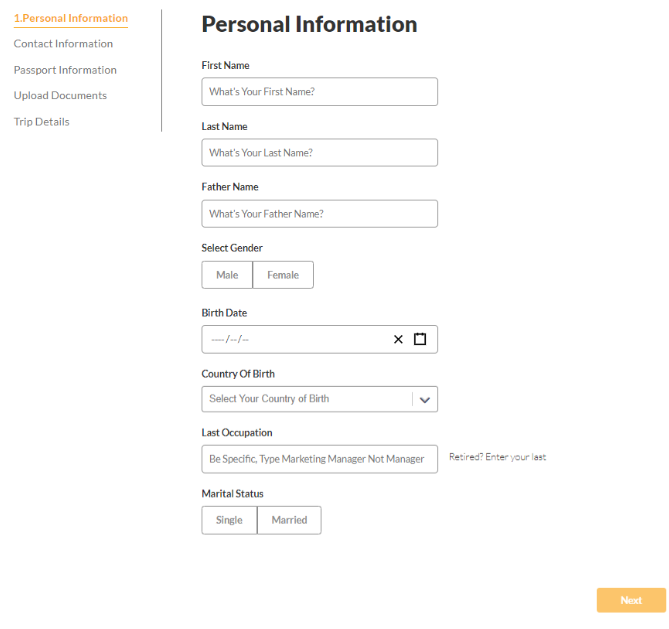 Step 2: Contact information. It includes the phone number, your residence address, and an email address.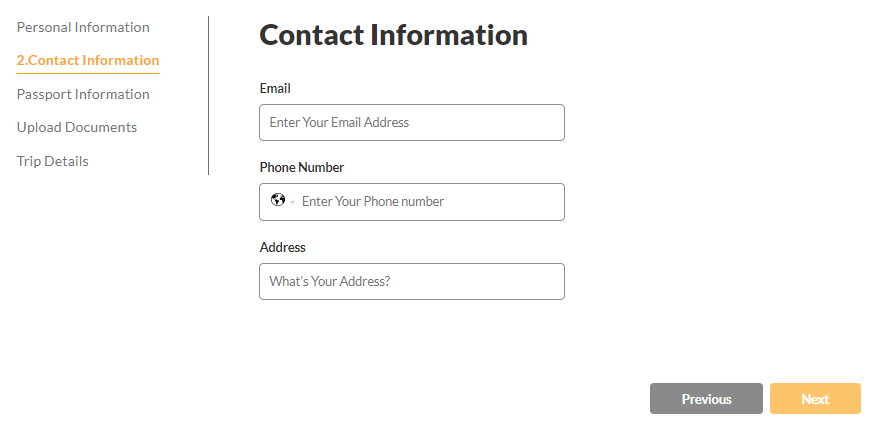 Step 3: Passport information. You enter your passport information including its type, number, and dates of issue and expiration.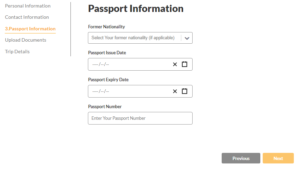 Step 4: Upload your images. 
 Step 5: Trip details. The most important field is selecting where you want to collect your visa, at the airport or an embassy/consulate.
If you applied for the visa on arrival (VOA), you should present a copy of your Submission Notice (available after completing the application) to the VOA counter at the airport and pay the visa fee in euros there. Please find more information about VOA including eligible nationalities here in our complete guide for Iran visa on arrival. There are two mandatory fields, duration of stay and type of entry that has just one option: once (one entry is permitted).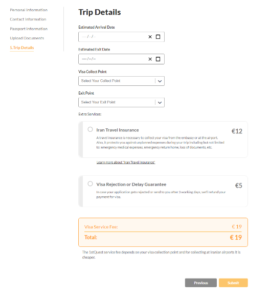 After filling up all the fields and submitting the form, you will receive a verification email with a link and verification code. Find the email in your inbox or spam folder and click on the link to confirm your application. You should confirm your application in 12 hours, otherwise, it will be removed automatically.
Also check out: Iran visa requirements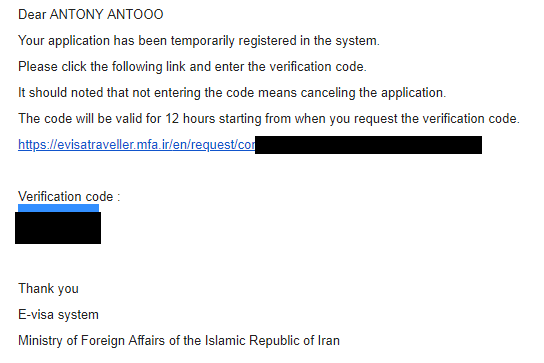 Also check out: Iran visa status
NOTE: Some applicants may be asked to attend an interview.
According to MFA e-Visa department, you will receive your authorization code within 10 business days.
Do you want to get your visa in 2 days without any hassle? 1stQuest will take care of all the process with best support. It`s cheap, easy and the chance of rejection is almost 0%.
Should I have an authorization code (e Visa) to get a visa on arrival (VOA)?
No, but you need to apply for it at least two days prior to your travel and present a copy of your Submission Notice (available after completing the application) to the VOA counter at the airport, according to MFA website. Please find more information about VOA including eligible nationalities in the ultimate guide for visa on arrival.
Also check out: Iran visa free countries
What are users' experiences with MFA e-Visa service?
While there are several cases that got their authorization code successfully even in five business days, reported experiences have indicated that users are not generally satisfied with MFA e-Visa service. Difficulty in uploading images, high response time, high rejection cases, and system errors were common complaints reported by applicants.
Let's review some of these experiences posted on TripAdvisor:
Vinicuis, from Sao Paulo: "I was successful to do the E-Visa for my wife – in the third time that I tried; each time we need to wait five days for the government's answer – and she got her visa in five days at the embassy of Moscow. But I got rejected five times in E-Visa. I only could get my E-Visa with the help of an agency, that could arrange in one day. Then I did the visa in one day at the embassy in Baku.."
Stefan, South Korean/German citizen: "…. So I actually applied for Iran Transit Visa through http://e_visa.mfa.ir/en/. My first and second try were each two and a bit more than a month ago but both applications were rejected and I visited Iranian consulate, they said I should try to apply for tourist visa. I tried and right now it was rejected again."
Awkulli, German citizen: "I am a bit desperate as scheduled to travel to Iran in one week already… I was planning on getting a VoA at IKA, for which I should be eligible for as a German citizen, however also read that it is helpful to submit an e-visa request up front and bring the printed request along. Unfortunately, this request has been rejected twice after less than 24h each time in an automated message (first time because host information was incomplete – my fault; and the second time without reason). … ."
Why should I use 1stQuest visa service?
Applying for Iran e visa with 1stQuest professional visa service has major advantages to MFA service. Some of them are listed in the following table.  The most annoying aspect of getting an Iran tourist visa is the lack of transparency in regulations. But the most important advantage of the 1stQuest visa service is its transparency.
Also check out: Iran visa fees
You can contact 24/7 with its support team, ask about your application progress, and have the confidence of knowing that your visa application will be following up to being issued wherever you've decided. And any delay or failure in the process will be notified with clear reasons and possible solutions to fix the problem.
1stQuest
MFA
Delivery time
2 business days
10 business days
(at least)
24/7 Email/Phone support
Yes
No
24/7 Online chat
Yes
No
Simple application process
Yes
No
Review and correct inaccuracies in each
application
Yes
No
By Iman Barazandeh
[Total: 28 Average: 3.5/5]