Deciding on the right place to stay on vacation is vital and really shapes the mood of your trip. If you're anything like me, this "fun" task can soon become a burden when faced with hundreds of options and thousands of glossy photos!
And now you're trying to find accommodation for your upcoming trip to Iran. Holy hell, things just got waaaaaay more confusing! You've got a million new questions added to the already long list – how does the money work, how can I pay online, what will the toilet be like?
I know, it's pretty complicated, but relax. We've written a guide to help you navigate booking Iran hotels. Read on to find out the best way to find the perfect accommodation in Iran (and at the best price!).
Ready to search and book hotels online now? Check out prices and availability of over 300 Iranian hotels at 1stQuest.
Booking a Hotel in Iran – what to expect
When traveling to a new country, especially somewhere like Iran where misinformation flies wildly across the internet, you want to know some things before you arrive. Here's a list of tips for what to expect from your Iranian hotel.
Free breakfast – Yay! 95% of all hotels, hostels and guesthouses provide guests with a complimentary breakfast. As a minimum, you can expect a buffet of several types of bread, cheeses, fresh vegetables, jams, and tea. Keen to know more about Iranian food? Check out this article: The most delicious Iranian cuisine should not be missed
Free wifi – Another yay, but don't get too excited. Hotel wifi is generally not great quality. You can consider getting a pocket 4G with MahCell.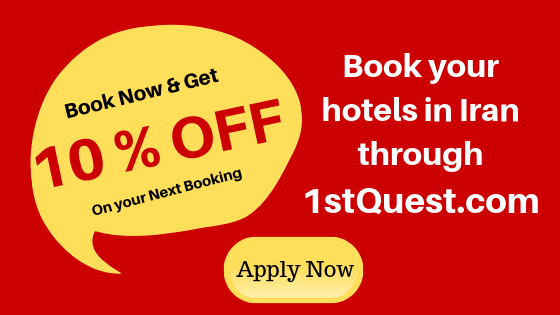 You get what you pay for – Usually true, but especially true in Iran. If the hostel is 2 euro a night don't expect a clean bathroom and freshly laundered sheets, okay?! Looking for cheap but not nasty accommodation – check out this article: Where to Sleep on Budget in Iran?
Friendly service (in English) – I am yet to travel to an Iranian hotel or hostel where the receptionist did not speak English. Some complicated queries may be lost in translation, especially at smaller lodgings less frequented by international travelers, but rest assured the friendly staff will do all they can to accommodate your needs.
Check-in – At most places check-in is 2pm and checkout is 12 noon. If you've got a flight later in the day most places will be happy to hold your bags or offer a late check out for a small fee.
[qsm quiz=1]
Passport, please – Invariably, your hotel will want to take your passport and sight your visa before letting you stay the night. If you feel weird without your passport, I advise you offer a photocopy and keep the original yourself.
Traditional style lodgings – One of the best things about hotels and hostels in Iran is the building itself. Converted traditional houses with stained glass windows, central courtyards offering 100s of years of history and architectural beauty are on offer in every city. Immerse yourself in the full Persian experience at one of these traditional hotels in Isfahan.
Also check out: Iran's best historic hotels.
The five-star experience – all travelers to Iran, regardless of budget can probably afford at least one night in a five-star hotel. Hotel prices are remarkably cheap (especially when converting to dollar or euro) so why not splurge? The Espinas Palace Hotel is, in a word, opulent. Expect a giant room, at least 1 king size bed, a pillow menu, free mini bar, palatial lobby, gym, pool, spa, sauna, massage center and an array of on site restaurants and cafes. My favorite five-star hotel in Iran is the Grand Shiraz Hotel.
Also check out: Top 5star hotels in Iran
Hostels – Although Iran is an Islamic country, hostels (including mixed dorms) do exist. Hostels are a great way to meet other travelers and live on the cheap. Read more about the best hostels in Iran.
Tiny towels & bathroom slippers – Something that I have noticed is that most places will only give tiny, tiny little towels. I do not understand how someone can dry their entire hair and body with such small cloth. Consider this a warning to BYO towel. And bathroom slippers will be provided. If you're staying somewhere with a shared bathroom, best to wear the slippers… when in Rome.
Toilets –  there are two common types of toilet in Iran, colloquially known as "Iranian" and "European" toilets. The Iranian toilet is basically a squat toilet and the European toilet is a regular sitting down the loo. Most hotels will specify what type of toilet they have in the room. As a general rule, the more touristy places and the fancy hotels will have the European version.
Also check out: Important Points to Consider Before Booking a Hotel in Iran 
Where to book Iran hotels online
All to be travelers to Iran should be aware that Iran is largely not connected to international banking systems. This means that your Mastercard and Visa card won't work here. This makes booking hotels online a bit tricky.
1stQuest is a European based company with offices in Iran. Because of this handy connection, 1stQuest is one of the few trustworthy platforms that can offer hotel pre-payment online. You can search over 300 Iranian hotels and book Iran hotels online through their trusted gateways.
For more information on other booking options, read this Hotel Booking Guide.
How to find cheap hotels in Iran
Iran offers a variety of accommodation options. Cheap hotels and hostels are easy to find and book online. Most hostels start around 5 EUR per night for a dorm room bed and you can find a decent hotel with a private bathroom for 20 EUR per night.
For more information on our budget and mid range recommendations see:
Is it better to book directly with the hotel?
Booking directly with the hotel is always an option, but it is very unlikely that you will be able to pay in advance or book a specific type of room.
Are you thinking it will be cheaper directly with the hotel? Chill, 1stQuest offers the best price guarantee.  This means if you find a lower price within 24 hours of booking on 1stQuest, we'll refund you 100% of the difference. Read the full policy here.
Are hotels cheaper last minute?
Generally speaking, no. Unlike many places, last minute discounts on hotels are not very common in Iran.  You can always ask for a discount at the hotel, but on the spot quoted prices will likely be inflated.
When is the best time for booking a Hotel in Iran?
Unless it is high season, you'll usually be able to book any hotel you want just a few weeks before your arrival.
High season in Iran is different from other countries. To confuse things, some Islamic holiday periods vary year to year, because the Islamic calendar moves 11 days annually.
With that said, generally speaking, high season is March-May.
For more details, check out our month-to-month guide to travel in Iran.
Chat with 1stQuest's expert Sales Team to arrange hotels and other services.