From afar, Parsian Esteghlal International Hotel's big towers look like two gentle giants. This luxurious hotel (formerly known as Royal Tehran Hilton), based on the hillside of Alborz Mountain chain, is one of the biggest if not the best 5star Hotel in Parsian International Hotel Chains and also in I.R.Iran.
Its two towers, the west tower and east tower, built-in 1962 and 1972 respectively, consist of all kinds of amenities such as different types of restaurants, conference halls, gym and swimming pools, etc. the west and east towers of Parsian Esteghlal International Hotel (PEIH) have different kinds of views, both of which are as breathtaking as always. The east tower rooms with their gorgeous view of Tehran's northern heights and the west tower's with their exquisite view of Tehran's beauty are truly worthy of the title of "Tehran's Top Hotel". As of now, a third "Southern Tower" is under construction with an unknown finishing date.
َAlso check out: Since you're pretty close to "Darband", pay it a visit!
Parsian Esteghlal Hotel with 70,000 m2 floor area hosts more than 500 rooms and many, many restaurants and halls, gym, tennis field and a business center. This famous hotel has been a gracious host to a large number of celebrities and famous people too in its own time. Famous people such as Ethiopian Emperor "Haile Selassie", king of Jordan, "King Hussein", the well-known Astronauts, "Neil Armstrong", "Buzz Aldrin" and "Michael Collins"
In its early years, Esteghlal International Hotel was a symbol of Iran's Development and Progress and therefore, important events and ceremonies such as "Miss Iran" took place in it every year.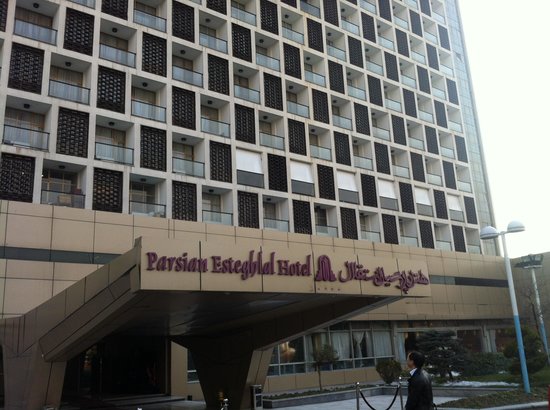 Parsian Esteghlal International Hotel's West Wing (West Tower)
Esteghlal international hotel's west tower is the older brother of the two towers and there are plans for its innovation. Though older, this aged building has not yet lost its youthful soul and its appearance will not remind you of the days of the past! This is all thanks to "Heydar Ghiai", the architect of the tower and its "father" in some ways. Heydar Ghiai's innovation was the use of crushed white marble pieces mixed in with the concrete mix used in building the tower to make it maintain its coloration as the years pass by. This little trick made it possible for the Parsian Esteghlal's west tower to still look as good as it did, 58 years ago.
Even though both the west and the east towers are joined at the base with a modern lobby drowned in colorful and luxurious decorations and elegant Persian paintings, these old brothers have little in common as the eastern tower is 10 years younger and once innovated before in 1997. This made the gap between the towers even wider as now, the west tower is somehow, representative of the old ways but the eastern tower is more equipped with more services and amenities than its older brother.

Parsian Esteghlal Hotel's Different Available Facilities
Conference Halls, Reception Halls & Restaurants: Esteghlal Hotel has quite a large number of Different Halls and Restaurants that we will discuss briefly in the following:

"Darya-e Noor" Hall: one of the largest Halls in Iran without a column, "Darya-e Noor" (literary meaning 'Sea of Light'), accommodates up to 850 seating. This large and luxurious hall is well suited for all kinds of events and ceremonies.

Yas Restaurant-Hall #1: positioned in the eastern part of the Esteghlal international hotel's grand lobby, this hybrid of a restaurant-hall is able to house up to 180 people at one seating and it is a very well-suited place for private or governmental workshops or events.

Yas Reception Hall #2: Recently opened, this large reception hall, provides a very cozy yet modern atmosphere and a night to remember for all of your guests. It's quite unique architecture makes this hall the only one of its own that can be used for women only events and ceremonies.

Nofel loshato Hall: getting its name from the famous neauphle-le-château, this hall with the capacity to house up to 140 people in one seating, just like Yas Restaurant-Hall #1 is a very good place for those who seek a cozy hall for their private event without and far from the cities normal chaos.

"Matbah" Café-Restaurant: this Café-Restaurant placed in the middle of Parsian Esteghlal International Hotel's business center can host your events with a mixture of Turkish and international foods.

"Gille Wa" Seasonal Restaurant: this seasonal restaurant placed in the open and refreshing environment of the Parsian Esteghlal international hotel, can host all of your events and ceremonies placed in the cool nights of the year to make an even better experience for you and your guests.

Parsian Esteghlal International Hotel' Grand lobby's café shop: this beautiful and modern café shop placed in the grand lobby of the PEIH, will serve you with live piano music and delicious and tasty cold and warm non-alcoholic drinks and juices. Relax and rest for a moment in here, far from the daily concerns of yours while your room gets ready for you.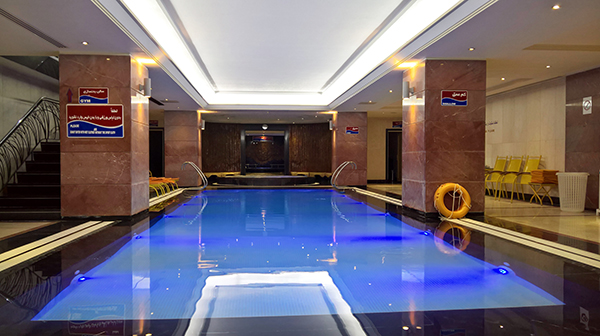 Swimming Pool and Sauna: enjoy a slow day with a nice, refreshing swim in Parsian Esteghlal international hotel's Swimming pool and relax in its Sauna.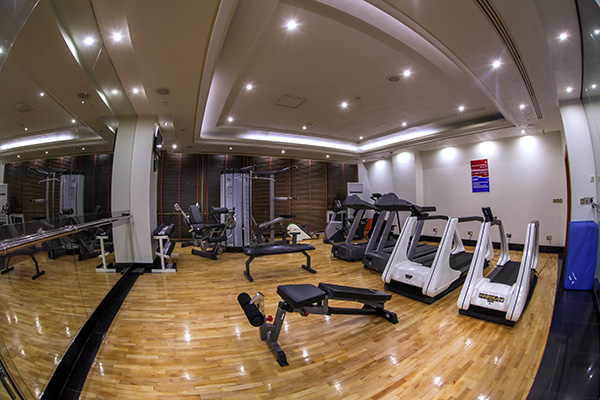 Gym: never miss a day in your workout routine with Parsian Esteghlal international hotel top-notch gym with equipped with the latest technology. You can even enjoy a round of tennis in PEIH very own tennis field.
All kinds of different shops, Parking with the capacity of over 350 Car at the same time, laundry services, 24/7 Taxi and pick up services to all of the big Tehran's top sights and attractions.
Parsian Esteghlal Hotel's Menu and Food Options
All of Parsian Esteghlal International Hotel's restaurants and cafés serve all kinds of delicious and colorful Iranian and International food and non-alcoholic drinks.
Also check out: Iranian vegetarian foods
Parsian Esteghlal Hotel's Room Amenities
504 room and 48 suites equipped with the latest most luxurious amenities and technologies such as 24/7 room service, Phone, TV, Satellite TV, Tea and Coffee maker, high-speed internet, room safe, fire safety systems and a minibar are the spines of the Parsian Esteghlal International Hotel.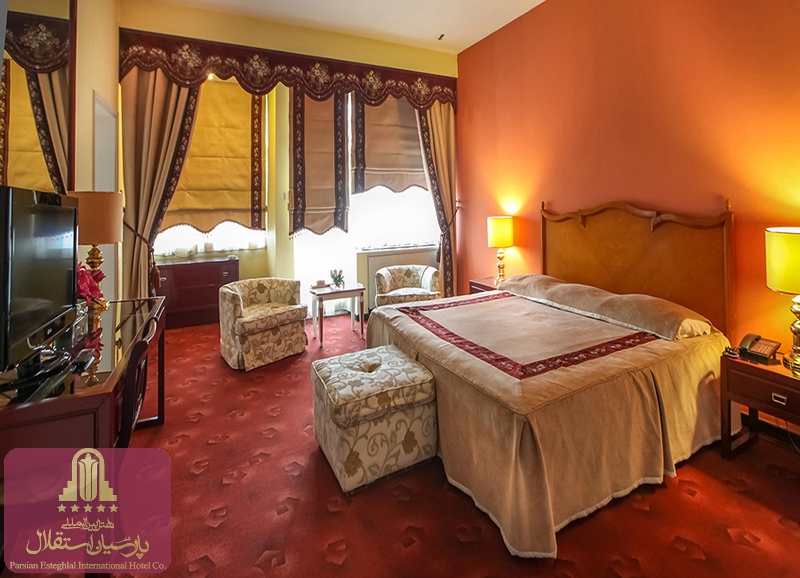 Final Word About Parsian Esteghlal Hotel
All of these facilities, room amenities etc. in addition to the Parsian Esteghlal International Hotel's big family of Dedicated and hardworking personnel who thinks of the hotel as their own, will work together to make the best trip of your life for you!
Also check out: you can book your stay at Tehran hotels through 1stQuest