Most of us may prefer to stay at over-the-top and luxurious hotels when it comes to let our hair down and spend some downtime. Tourism industries in different countries are spending more and more on advertising 5-star, modern and expensive hotels to travelers. An opportunity of taking a one or two-week vacation in a luxury hotel can be exciting. But, staying in a 400 years old traditional houses in Iran may truly come once in a lifetime.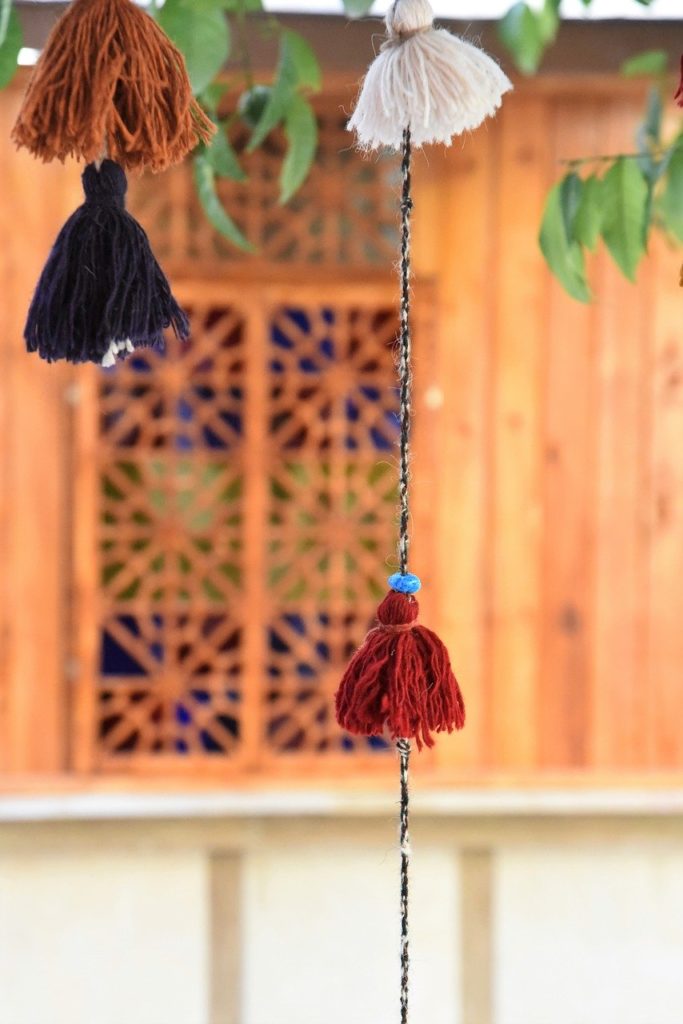 Traveling to Iran can give you this chance where you can have this unique experience, which you probably can't find elsewhere. As you may already know, Iran has long been a historical country with beautiful and ancient cities. Each city can take you back to a whole new different era with its own architectural characteristics.
Although there are various Iran hotels with high-class services and amenities, spending a night or two in one of the best historical houses is a way much better experience, which only the beautiful cities of Iran can offer to their welcome guests.
If you're not into traditional houses in Iran, there are different accommodations for you as well. But, I do suggest that you should try this for once. Not many people can have the opportunity to see how does it feel like to spend a night in a 200-years-old house.
There are so many fantastic traditional houses in Iran. In this article, we're introducing top 10 traditional houses in Iran which are located in the most popular cities among travelers.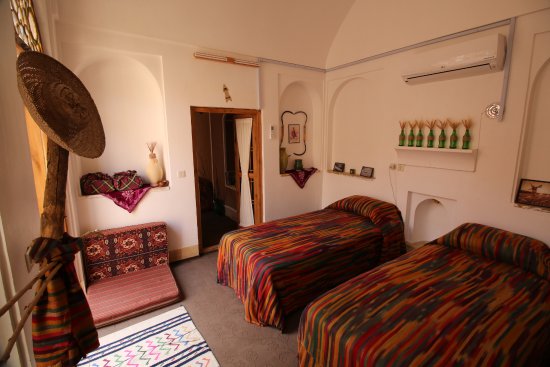 1. Narenjestan Traditional House
Visiting UNESCO world heritage city of Yazd should definitely be added to your "don't miss" destination list. Yazd is the city of desert as it is located between Dasht-e Kavir and Dasht-e Lut, which can take you back to an ancient era with its own mud-brick houses and wind towers. In order to add even more excitement to your trip to Yazd, you can stay in Narenjestan historical house. Staying in this relaxed and lively traditional house will give you the opportunity to see what the real Persian hospitality is like. Because our friends in Narenjestan guesthouse know exactly how to make their guests surprise. Narenjestan traditional house is B&B, so you're going to have Iranian delicious breakfasts every morning. There is also a restaurant that can serve you with Iranian foods and beverages all the time. Narenjestan ancient house is kid-friendly. Kids under five years old are free of charge. This is a real budget house with several amenities. There's a daily maid service, air conditioning, free parking in case you travel with your car and also indoor fridge and TV set in each room. Narenjestan has three units, which each one has their own name based on their decoration. There is also a green and beautiful yard which makes an amazing view for eating meals. To put it in a nutshell, Narenjestan traditional house is specially tailored for tourists who are looking for a relaxing getaway.
Location: Shahid Sadoughi St, Imam Khomeini Ave, Yazd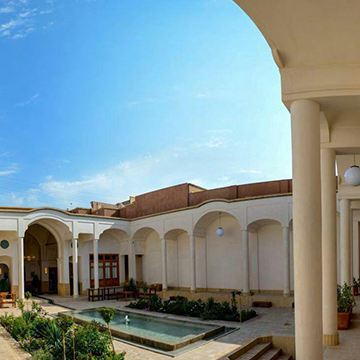 2. Darb-e Bagh
The city of Kashan is a must-see during your trip to Iran. There are many alluring architectural wonders in this ancient city which have been recognized by UNESCO. Kashan is also a home to some of the best traditional hotels, but not like many other hotels you often see across the globe. It is offering one of the greatest Iran's historical guesthouses.
Darb-e Bagh guesthouse is one of the most fascinating traditional houses in Kashan. It was built around a 100 years ago, residence for Haj Agha Doroodgar. It was then being rebuilt for two years by skilled experts. They tried their best to maintain its original shape and structure, so wonderful guests can see the beloved Iranian heritage. Hotel rooms features vary in Darb-e Bagh house. There are single and double rooms with private bathrooms. The best part of Iran's ancient hotels is their suites. Darb-e Bagh guesthouse has one suite with its own living room and bedrooms and a dining room with spectacular view. Rooms are impeccably clean and comfortable. You can also have free breakfasts. And if you have no idea how to visit the sightseeing, there's nothing to worry about. They offer guided tours of Kashan as well.
Location: Farhang 31 Alley, Fazel Naraghi St, Kashan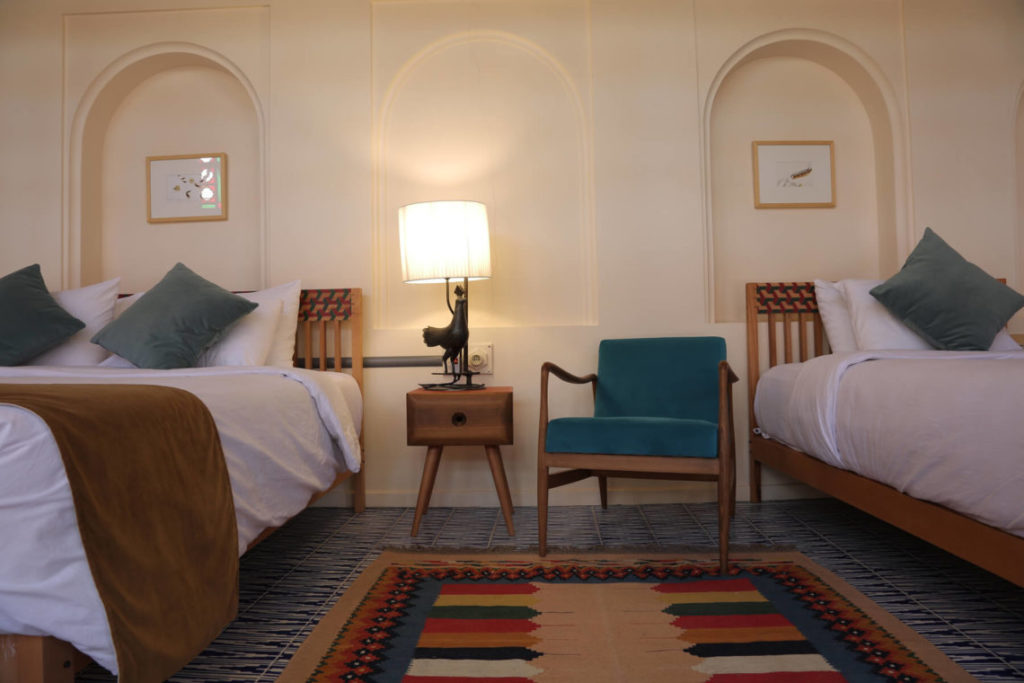 3. Darb-e Shazdeh boutique hotel
Darb-e Shazdeh is a charming hotel that is bound to capture your heart, located in the beautiful city of Shiraz. There are so many distinctive Shiraz hotels with elegant and fancy services, which can make your trip memorable. But, what Darb-e Shazdeh offers to you is a completely different experience that is hard to find in other accommodations. Darb-e Shazdeh is composed of nine rooms with different style and mood. All rooms are overlooking a beautiful inner courtyard which is essentially the heart of the hotel. Like any other hotels, every room is equipped with private bathrooms and showers. There is concierge services and 24-hours hotel reception, too. Best of all are the attentive staff who work hard to make their guests happy with their fashionable Persian dresses. Shiraz hotels are located in various districts. However, the Darb-e Shazdeh is as near as it gets to the popular Zand royal district and the Arg of Karimkhan. So, what's keeping you? Ignore other Shiraz hotels and stay a night at Darb-e Shazdeh guesthouse. You won't regret it.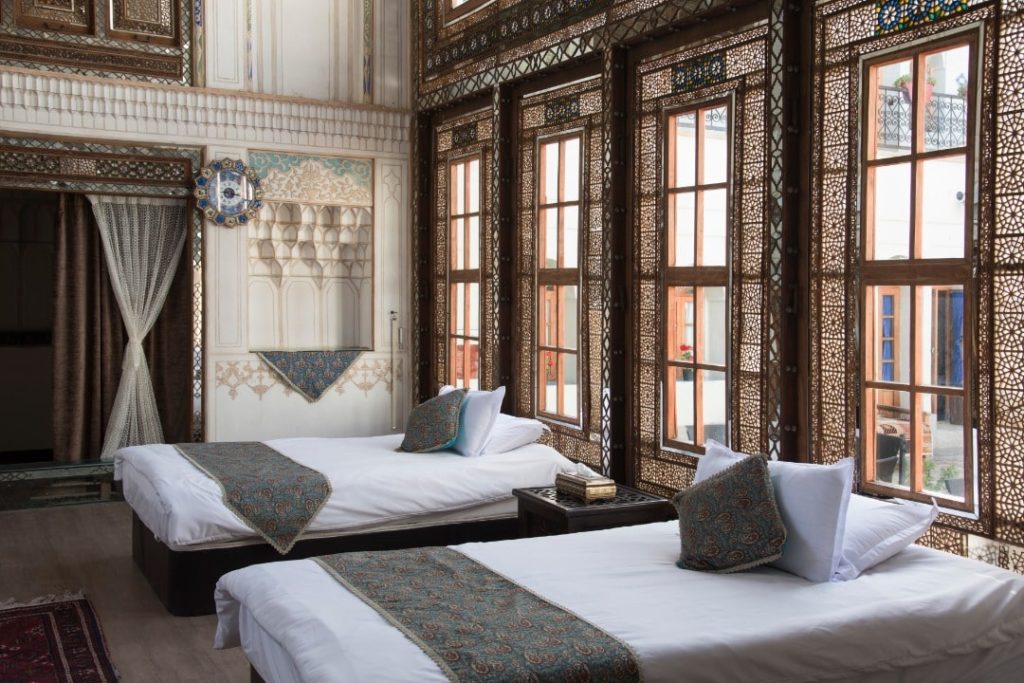 4. Atigh traditional hotel
The most popular city of Iran, Isfahan, also nicknamed "half of the world", which is an apt nickname indeed. Because it has many architectural and historical sites from different eras. Staying at one of the greatest historical hotels can make your trip to the half of the world more exciting. Atigh traditional hotel was built in Qajar era about two hundred years ago. Can you believe to spend a night in a two hundred-years-old house? Atigh hotel can make your dream come true. As other traditional guesthouses, each room has its own name with the traditional architecture which provides profound comfort for welcome guests. For example, there are Qajar suite, Qajar room and Khatereh room in Atigh historical hotel. Qualified staff are eager to help you all the time with the best services and amenities. The hotel building structure was registered in National Heritage Organization of Iran in 2002.
Location: Masjed-Shams Alley, 37th Alley, Ebne-Sina St, Shohada Square, Isfahan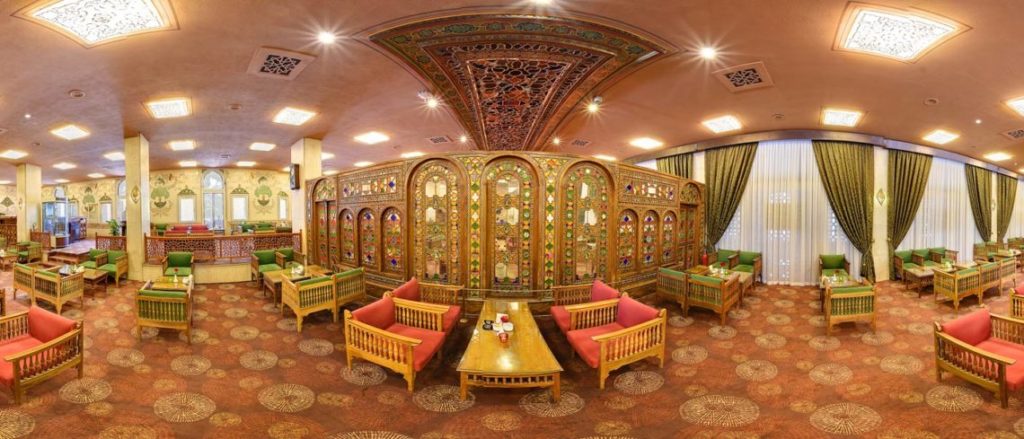 5. Abbasi Hotel, Qajar room, Isfahan
If you're looking for a cheap and budget hotel, go elsewhere. But, if you're looking for a pricey, luxurious and yet traditional one, this is the right spot for you. Abbasi Hotel located again in Isfahan, just like its own birthplace carries the nickname, "the world's most beautiful hotel". As the biggest hotel in Isfahan with 300-years-old age, you can have marvelous experience during your stay at the Abbasi Hotel. It has 225 rooms, special suites including single and double rooms and two and three-bedroom apartments. You can enjoy the unrepeated heritage in Isfahan architectural style which traced back to the glorious Safavid and Qajar era, while you're exploring the entire Abbasi Hotel. Every room is high-tech with safety systems. Magnificent restaurants, traditional dining room, coffee shop, gym, pool, sauna and massage service are ready to amaze you. As a matter of fact, the best section of Iran hotels is their gardens. The most glorious part of the hotel is the "Persian Garden". A spectacular view to drink a cup of tea and enjoy the beautiful scenery. Abbasi hotel is one of the most beautiful traditional hotels in Iran.
Location: Chaharbagh Abbasi Ave, Amadegah St, Isfahan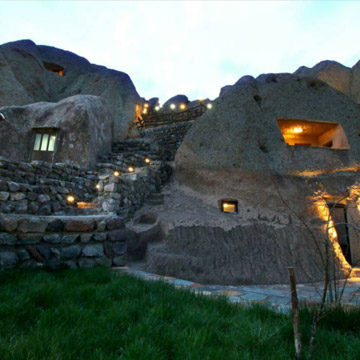 6. Laleh Kandovan hotel
If you plan to visit Tabriz, which you should, don't forget to visit the touristic village of Kandovan. Kandovan is an astonishing village located on the Sabalan mountains, which is famous for its rocky architecture. Kandovan is the only inhabited village in the world.
Laleh Kandovan Hotel is not only one of the distinct Iran hotels, but also is considered to be one of the three rocky hotels in the world. The designers of this hotel are one of the pioneers of introducing boutique hotel in Iran. Laleh Hotel can offer you an opportunity of living like a caveman. But one big difference is that you will be treated in a 5-star luxury way. There is no elevator in this hotel, obviously. Amenities in Laleh hotel are various, like TV, Wi-Fi, tea maker, refrigerator and also traditional tea house and café which welcome you with delicious Iranian cuisine.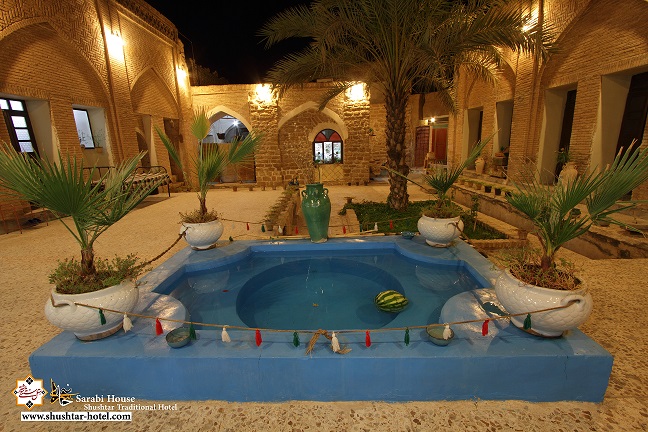 7. Sarabi Shushtar hotel
Shushtar another beautiful city of Iran, located in the Khuzestan province, approximately 92 kilometres away from Ahvaz. Shushtar is famous for its Historical Hydraulic System as a masterpiece of creative genius. So, don't forget to visit this unique place. Sarabi Hotel as one of the historical houses, can be a great option for staying in Shushtar. Sarabi Hotel is a 210 years old building which dates back to Qajar era. It is composed of yard, pool, garden, three porches and 15 rooms. A very interesting fact in Iranian history is a dark brown door with two separated doorknockers. One is used by women and the other is used by men. So, people who were living in the house would realize who is knocking. You can experience this wonderful history in Sarabi hotel.
Location: Abdoolah Banoo St, Shushtar, Khuzestan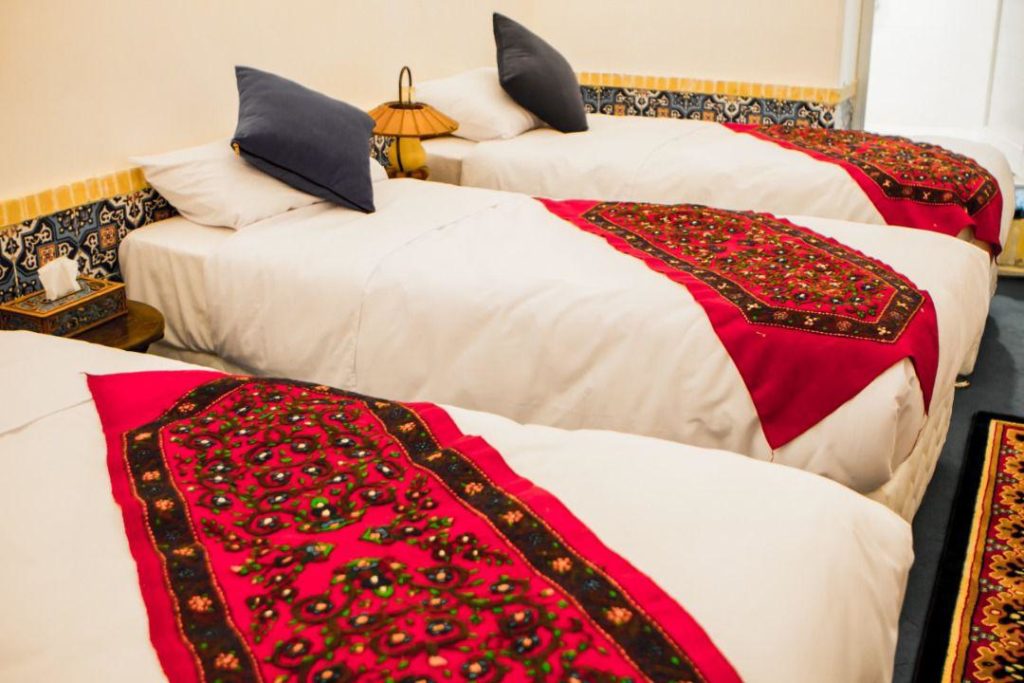 8. Shahbaz Hotel
If you want to stay at the best traditional hotel in the city of Kerman, Shahbaz Hotel is the only place to stay. It's not as high-class as other accommodations but is a neat, friendly B&B with excellent facilities, such as Wi-Fi, 24-hour hotel reception and concierge services. Shahbaz is a newly opened hotel in Kerman.
Location: 7th Alley, Ferdowsi St, Kerman
9. Arian Hostel
You may have heard of Tehran as a modern and crowded city with one of the best Iran hotels. But, you can find friendly and relaxed places in Tehran, too. Arian Hostel has suites and family rooms that are adorned traditionally. Neat ambiance and reasonable price where you can enjoy a friendly nightlife while eating local foods. Located in the heart of Tehran, one of the noisiest areas near the Grand Bazaar and Golestan palace, Arian hostel is peaceful and quiet inside.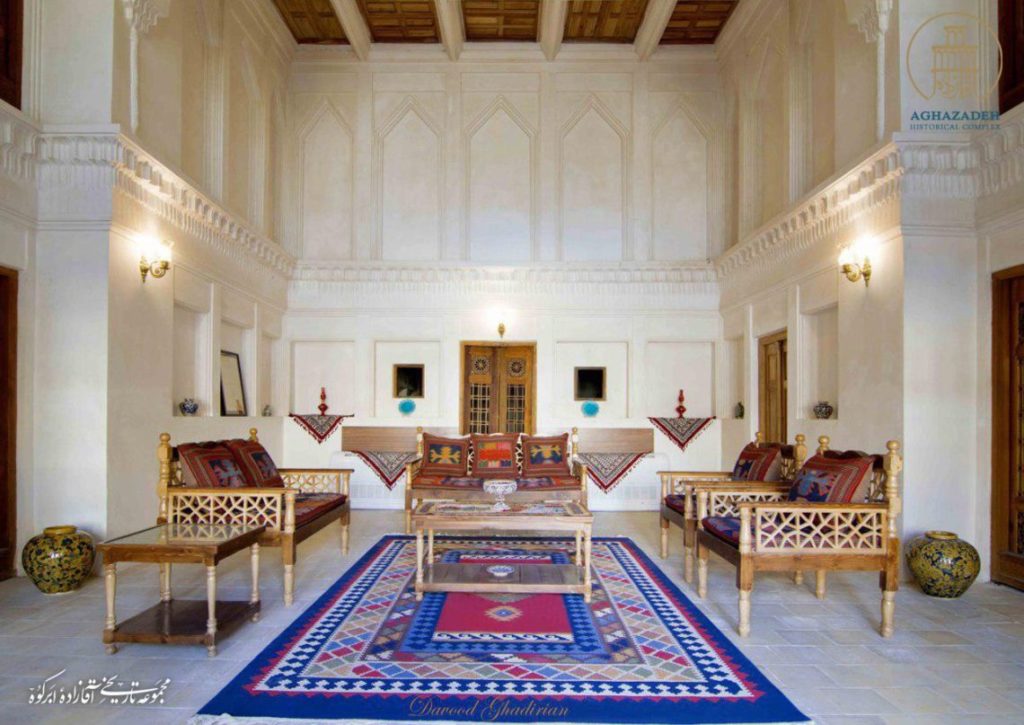 10. Aghazadeh boutique hotel
Last but not least, is Aghazadeh boutique hotel, one of the Iran's traditional hotels located in the city of Abarkuh, Yazd. Abarkuh is a historical town with ancient sightseeing such as sarv-e Abarkuh, Gonbad-e Ali and Jame mosque. As we mentioned before, Yazd is a famous city for its wind tower. This Qajar house has a two story wind tower with four adjacent traditional houses. All the windows in this historical complex face the courtyard. There is a double bed suite and 6 double rooms and attentive staff who are fluent in English. Just like elsehwhere, you will have TV, toilet, Internet and a lot more other amenities.
Location: Imam Hossein Square, Abarkuh, Yazd
The above list has introduced top traditional houses in Iran. Hopefully, it suits your needs. Our experts in 1stquest will be happy to help you make a wonderful journey to Iran. If you have any questions, feel free to ask.