When you're traveling to Iran, three days is less than minimum amount of time you really need to even dig through the sites of a city like Tehran, the most advanced and modern metropolitan and the capital of Iran, let alone other historical and religious zones and cities all across the country. 2500 years of established and documented civilization spanned over dozens of dynasties with an ever-changing territories alongside small and big conflicts and wars occurring each year (in the past times but not now, Iran's safe!) and different religious crusades taking over the beliefs of the people and remodeling the governing institution periodically have resulted in a land that today we know as Iran, or the land of the Aryans or Persians, with diverse sophisticated culture, rich history, proud ethnic groups and societies, and multiple shrines and holy monuments rising at each corner of the country. One of the holiest cities in Iran is Mashhad, which stands for the place for martyrdom.
The second-largest city in Iran is the sacred resting place of Imam Reza, the eighth Shia Imam and the legendary Abul-Qasem Ferdowsi, the most iconic Persian poet who wrote the Shahnameh, the world's longest epic poem, over the course of 30 years that depicted a series of stories of an mythical Persia and its heroes and their heroism to protect the land of the Persians. The 50,000 distiches that Ferdowsi put into his books safeguarded the Persian language against the literal onslaught of the Arabic language and it's the core reason that Farsi or the national language today (derived from ancient Persian) is still spoken throughout the country unlike many other ancient cultures (Egyptians for example) who forgot their original language after the Islamization of their land.
Also check out: The 6 must-see places during your trip to Mashhad
Shahnameh also helped preserve deep and historical Persian ceremonies and customs which are still being practiced and cherished in the 21 century. The shrines of Imam Reza and Ferdowsi, alongside many other high-value sites and irreplaceable archaeological remains, make a Mashhad 3-Day itinerary near to impossible to come up with, not to say lacking! However, if you're an Iran-enthusiast and time is of an essence to you on your travel to this tourist upcoming hot-spot, this Mashhad 3-Day itinerary can help you with your going-around the city and guide you to a quick yet enjoyable drop-in into all the good and worthwhile tourist sites in the holiest city in Iran to pilgrims.
Also check out: Mashhad travel guide
Day 1  
As you've guessed by now, the first day of the Mashhad 3-Day itinerary goes entirely to the most famous spots and you need to make the best of it since there's no time to lose.
Imam Reza Shrine (Haram-e Imam Reza)
After being body searched at the entry gate (don't worry, this is mandatory for locals or tourists alike) the eye-catching sight of the main Shrine with its minarets touching the sky and marble courtyards,  which all were built to keep the memory of the eighth Shia Imam – Reza alive, alongside its adjacent mosques and Sahns (Islamic courtyards) which older ones can be backtracked to Imam's era and others are mostly built in the years after the Islamic revolution will definitely get a "wow" out of you but don't get over-excited just yet. It's the first steps into the main Shrine or Haram that seem to be overwhelming for everybody and as well the few meters left to the green chamber where the death stone of the Holy Imam is located; at these two exact moments you are likely to get Goosebumps due to the deep spiritual impact of the shrine and dedicated heartbroken pilgrims clinging to the steel bars of the tomb.
Darvishi Hotel Mashhad booking is very easy through 1stQuest.
The interior of the holy shrine is tastefully and masterfully designed and decorated and many times renovated over the last twelve hundred years. Exquisite tile work and Arabic calligraphy one top of charming mirror work surface the inside walls and the shrine's interior vault down to the floor where fine handmade Persian carpets carefully arranged lay so that no pilgrim's feet will ever feel the cold marble stone beneath while they're saying their prayers. This magnificent ambiance is completed by enormous breath-taking chandeliers gracefully shining a light on devout and visitors to make their spirits fly away from their body. The holy shrine is most undoubtedly worth a whole day out of our Mashhad 3-day itinerary since it's a vast complex to cover on foot and lots of holy spots to see. That being said, you can rush through it and just head out to see some other well-known mosques like  Goharshad mosque that will only take a few hours of your time and you'll be right on track for a delicious lunch in one of Mashhad's best restaurants.
You can book Mashhad hotels easily through 1stQuest.
Lunch at Pesaran e Karim Restaurant
There are quite good restaurants in short walking or driving distance of the Haram that offer terrific food and great service. "Pesaran Karim" in "Daneshgah" street is only fifteen minutes away from Imam Reza's shrine with a ride and has some of the most delicious dishes you can hope to find in this holy city. This is a traditional restaurant for meat-lovers that serves the food in the simplest way but it's probably the best place to eat Kebabs or Shishlik (a special kind of Kebab similar to lamb shank but bigger) that comes with buttered rice and it's originated from a small town called Shandiz to the north of Mashhad. Rezaei restaurant is another diner at a five-minutes-driving-radius of the Haram with quality food that is not that expensive. You can find the Persian Shishlik, Kebabs, and other dishes of the day in Rezaei restaurant. However, don't expect much in terms of luxurious-atmosphere and over-the-top services since it's an old place and it has the old-Persian-restaurant vibe to it.
Also check out: cheap hotels in Mashhad
Naderi Complex
After a tasty meal, your next stop can be the grand Naderi complex. Nader Shah, the founder of Afsharid dynasty, took Mashhad as his governmental capital and constructed two different tombs for himself in the city. The one you're going to see is the only survivor of all the historical devastation which consists of a museum, a mausoleum, and a vast garden to cool the hot weather of a dessert area like Mashhad. The massive sculptor of Nader Shah was built in Tehran and then sent to Italy for its bronzing and once again transported to Mashhad to embrace any incomer to the complex. A visit to this awe-inspiring tomb and garden can be a fitting end to your first day of three day Mashhad itinerary.
Day 2
Ferdowsi Tomb
It's time for some true Persian literature. We're going to kick off the second day of Mashhad 3-day itinerary with a visit to the grand resting-place of the great Hakim Abul-Qasem Ferdowsi that lies 20 kilometers to the north of Mashhad, in the ancient city of Tous, or what remains of it these days. The rout to Tous and Ferdowsi tomb is straightforward and you can even take the bus to this historical site but since we're in a rush and there are a lot more places to see, we recommend getting a cab or a Snapp (the Persian version of Uber) and saving yourself a lot of time and possible headache due to Mashhad's traffic. Nonetheless, this short trip is going to cost you a good 5-6 hours.
Also check out: The best hotels in Mashhad
After getting to the memorial site and getting a ticket, make sure not to completely forget the "Tous Museum". It's right next to the tomb with engraved sculptures that beautifully tell ancient mythical stories from the Shahnameh and show the hardship the great Ferdowsi went through to keep the Persian language alive. Also, the remnants of the old Tous city are not far away from the tomb where you can find brick walls and half-destroyed structures that are visually comparable to the beauty of the tomb.
Lunch at Moein Darbari restaurant in Mashhad
Although our suggestions from day one lunch still are on the table, a couple of new restaurants on day two can introduce to some more delicious Persian cousins and dishes in Mashhad. The "Moein Darbari" restaurant is 100 years old reminder of how Persians served food and it's supposedly one of the best ones out there. Like its counterparts, its lamb shank in Persian style has more to its name and the fresh meat literally melts in your mouth. With a moderate price and fairly awesome food, it comes as no shock to anybody that this restaurant is packed during weekends and the waiting time can go up to hours, so make sure to be there early.
Another great option for today's lunch is going to be "Amir Kabir" restaurant. Yet another very affordable traditional Iranian restaurant in city-center with a proper menu that offers a great quality compared to its rates. Both Amir Kabir and Moein Darbari restaurants are close to our next destination, the "Malek House."
Malek House
Located in the eastern part of Imam Khomeini square in Mashhad, Malek House shines brightly and without any competition. This historic house that was built under the influence of Islamic art is known as the tourist house of Mashhad with unparalleled Qajari architectural design. Originally belonging to Haj Hussein Malek, this wonderful house is more than 100 years old and it's an artistic mixture of Iranian methods and European methods. While the exterior of the building tries to show the emphasize of traditional Persian lifestyle and architecture, the interior European elements of the house totally give it away with a design more practical to modern city life and needs. Once a massive oasis in the heart of Mashhad, now only two stores of the huge design remain. Malek House is the center of traditional arts of Khorasan Razavi Cultural Heritage and Tourism Organization branch.
Melat Park
If you're feeling tired after all this adventure, Melat Park can be a nice change of scenery and a nice place to just sit down, enjoy a Faloodeh (traditional Persian ice cream with noodle made from starch in saffron or other flavored syrups) and just chat with the locals.  Don't forget, Iranian are off-the-charts friendly and just love to talk to you and get to know you more. You even might get invited to their house!
Day 3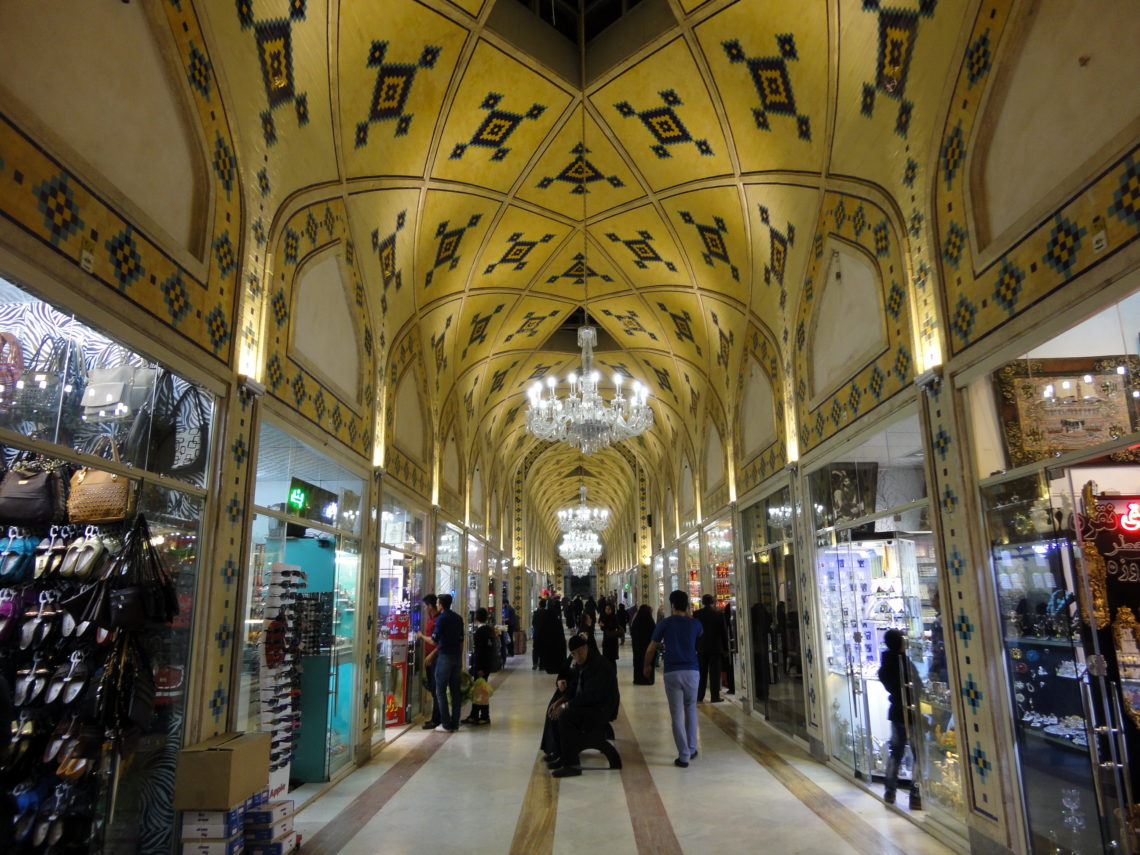 The last day of Mashhad 3-day itinerary is going to be a shopping day. Saffron, Razavi cakes, turquoise, and lots of other things are the reason why your family might get upset with you if you go back to them empty-handed. Shopping malls and shopping centers like Zist-e Khavar and or Bazaar Reza (the largest traditional Bazaar in Mashhad) are full shops for you to buy a fitting souvenir from Mashhad. However, the traditional shops around the Haram or the holy shrine are believed to be the best spot to buy the finest Iranian saffron or raspberry. Either way, there's no excuse for not getting some since they are fairly affordable now (since the break-down of Rial value compared to Dollar or Euro) and they can be found everywhere in Mashhad.
Tatetraditional Kebab inside a Traditional Testaurant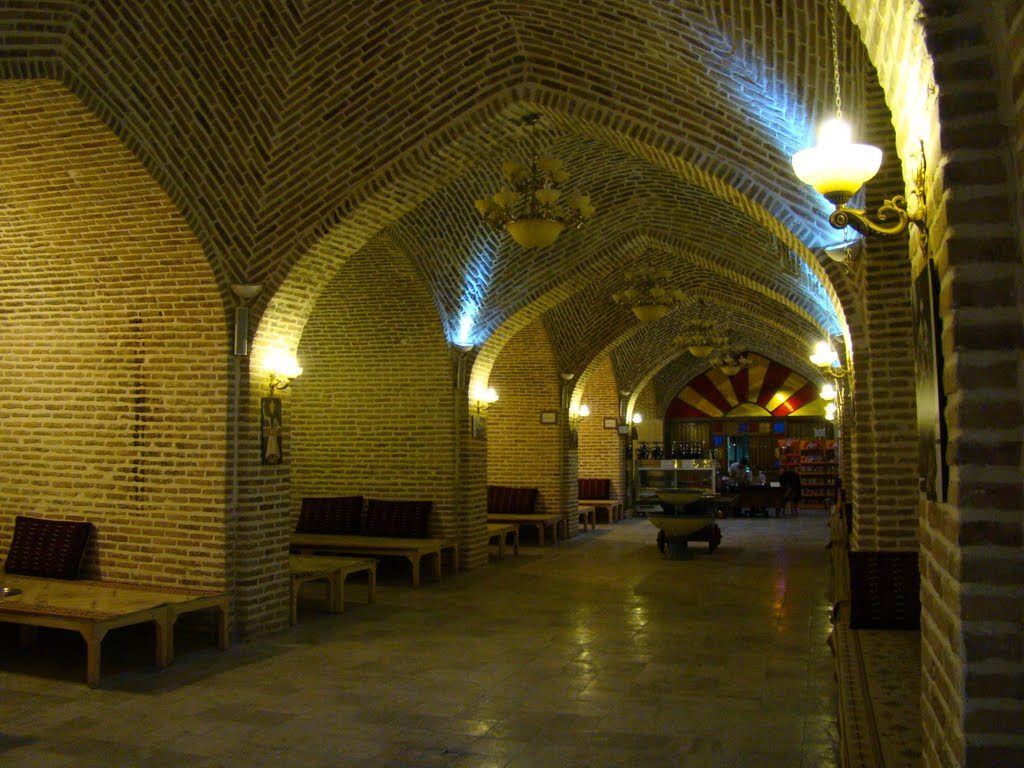 For the last day, we think that a traditional Kebab inside a traditional restaurant with mud-brick arches and benches tucked into side spaces between two of them will do the trick for you and if you haven't by now fall in love with this magnificent city, you would in the last hours of Mashhad 3-day itinerary. The restaurant, which is a part of a bigger tourism complex called "Baba Ghodrat", serves delicious food in an unforgettable environment. That said, if you don't feel like sitting on a bench, you can pay a visit to "Adib Restaurant" which is only 5 minutes away from Bazaar Reza and gives you the same style of old Persian service and environment with good quality food.