Imagine you are lost in the labyrinth of Tehran old streets and you are not sure if you can find somebody to ask help from. Here is when you wish you could use google maps or something to find your way to your hotel!
Having a SIM card during your Iran trip is a must. Even though your hotel or some cafes provide you with Wi-Fi, it helps a lot to have access to the internet when you are traveling in a country where the language is totally unfamiliar. Also, it allows you to be in touch with your friends and family when you are strolling around gorgeous ancient monuments of Iran.
This article guides you through getting a SIM card and what to do afterwards.
If you need more info, feel free to contact 1stQuest support team at [email protected]
Irancell, Hamrah Aval and RighTel are the main phone operators in Iran. The former, Irancell, is the most popular one among the foreigner visitors for their services, convenience and their "visitor SIM".
You may also read: Currency and Cell-phone in Iran
How to get a SIM card in Iran
Right in the arrivals hall at Imam Khomeini Airport (IKA) you will see a big yellow stand with a sign which says "Irancell".
Go to the stall with your passport in hand and ask for a visitor SIM card. A visitor SIM card allows you to make domestic and international calls, send SMS and use 4G internet.

You may also read: How to Stay Connected Even in Iran!
There are three types of visitor SIM offered by Irancell. Due to the comments and feedback I have heard, the 3rd SIM card is the most suitable one for travelers for it provides the most cellular data amount.
You may also read: 12 Useful Travel Apps in Iran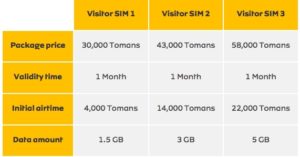 How and where to register your SIM card
All that is necessary is a passport number or a national ID number, in case an Iranian friend is getting the SIM for you.
Here is the list of MTN Irancell connect and distributer stores where you can get a SIM and register it at the same time.
The main stores to which foreign travelers refer are:
Irancell stall at IKA; open 24/7
Imam Khomeini metro station
Baab Homayoun entrance; open 8:00 – 15:30
Saturdays to Wednesdays and 8:00 – 12:00 on Thursdays
Also read: Money Matters; Do you need a travel debit card for your Iran trip?
How long is your SIM card valid in Iran
A visitor's SIM card is valid for 30 days. However, if you are planning to stay in Iran for more than a month, it would be better to get a regular SIM card at the airport or one of the Irancell Service Centers.

How to recharge your SIM card in Iran
The easiest way would be buying credit with an Iranian bank card, dialing the code *555#. The alternative is to go to a newspaper stand or a supermarket to buy a credit voucher. The vouchers are available in the amounts of 10,000 , 20,000 , 50,000 , 100,000 and 200,000 IRR. I would recommend you to get the last one so that you will have enough credit to get a data package and also airtime to make phone calls.
If your data amount is finished, you need to re-charge your SIM card credit and dial *555*5#; there will be a list of various options based on data amount and duration.
You might need to know Which type of Iran visa is more suitable for you before booking your services. 1stQuest provides you with an Iran visa with only €19 in 3 working days.
If you need to know more about the visas, check out the 10 frequently asked questions about Iran visa or contact us at [email protected]