The first thing that pops up to mind as soon as somebody talks about Persia or Iran is how hospital they are and how they take pleasure in playing the role of a host. Given their history and geographical location, this is not a big surprise. Iran has been sitting at the intersection of European and Asian continent for more than eight thousand years being the bridge that connects the east to the west. Also, a considerable portion of the ancient trade route, the Silk Road, ran through old Persia and Iran after the Islamic conquest.
Although the country's current territory is near half of what it used to be in its glorious days, still numerous remnants of Iranian caravanserai and lodging complexes remain across the ancient road in different provinces. The most well-known one of these complexes is the Abbasi complex in Isfahan. The most iconic wonderment of this antique complex is called the Abbasi hotel, presumably the oldest hotel in the world.
Abbasi Hotel History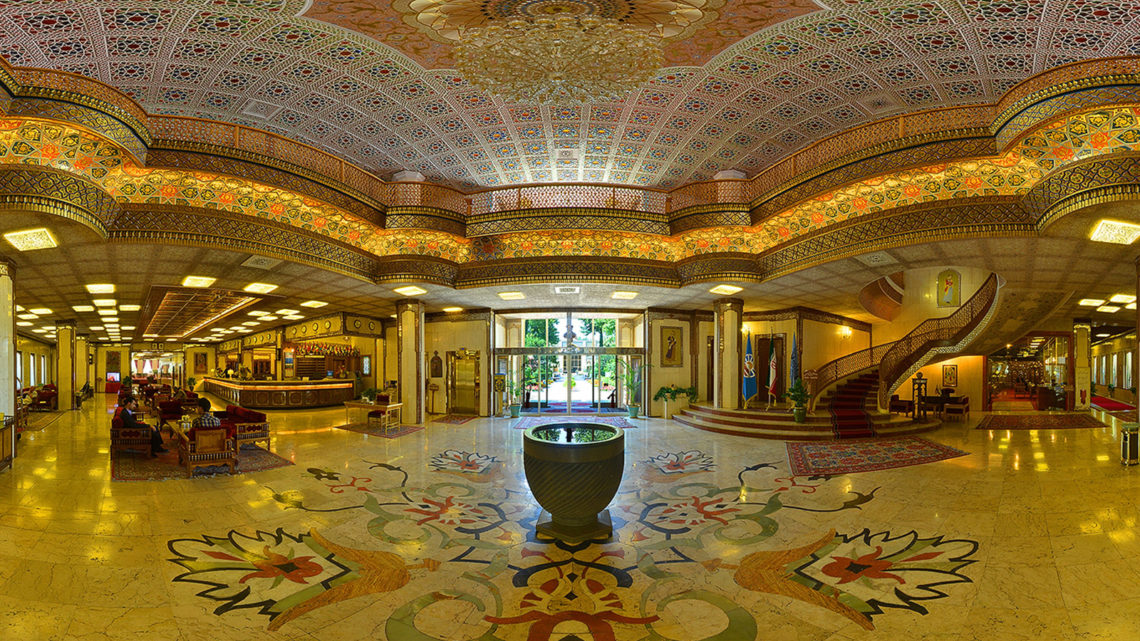 Abbasi hotel stands proud in the city of Isfahan and among its countless historical and architectural jewels. Isfahan became the mainstream of unrivaled historical and cultural sites after Shah Abbas the Great rose to power in 1587 and marked a new era in the Safavid dynasty. Built by the masterful hands of Persian architectures, more than 1800 caravanserais doted the face of Isfahan province alongside many mosques, gardens, bridges, and palaces that led to local people boasting about the capital city as the "Half of the world" or in Frasi "Nesfe Jahan." However, the total beauty of this 1800 combined is no match for the charm that Abbasi hotel splendidly rains on any beholder. you can book Isfahan hotels easily through 1stQuest.
300 years ago, Abbasi complex was built as a simple yet massive lodging spot for exhausted passing traders and caravans. The mere sight of this opulent caravanserai was a blessed relief for traders and merchants crossing the big dessert of Iran. It was a place for them to spend the night, exchange their horses or camels for fresh ones and restore their strength. Since the Safavid dynasty, this magnificent hotel has witnessed some rough times and has been put to use for different purposes that nearly destroyed the hotel and other nearby buildings; from a pit spot for domestic and foreign invading forces to serving as a military barracks, Abbasi hotel has withstood it all. In the 1950s, French archaeologist André Godard, working in Iran at the time, took it upon himself to fight for its restoration. Soon after that, the Abbasi hotel became what it is today: a 4-star hotel drenched in an ancient past.
Abbasi hotel, as described by locals, tourist, historians, and pretty much anybody who meets it for the first time, is the worlds most beautiful caravanserai turned into a hotel. Its hallways are lined with authentic miniature paintings, the ceiling of the lobby is detailed and the dining areas adorned with beautiful mirror work, glittering chandeliers, and exquisite colorful wall motifs often associated with romantic notions of "the Orient."
Abbasi hotel is the embodiment of previous Iranian Shahs and their majestic grandeur. Nobody can resist its allure and after the few first steps into the hotel, they all submit to a low yet noticeable "Wow." The apex of Abbasi hotel is its open-air courtyard. It's a tree-studded large Persian garden garnished with fountains, brook-lined avenues, and atmospheric outdoor lighting; literally, everything you hope for in a Persian garden. Here you can enjoy an evening cup of tea while sitting around the garden's centric fountain chatting and having a great time with your friends or family. We highly recommend, while sitting in the garden, ordering a bowl of traditional Iranian Ash-Reshte from the coffee shop. You can enjoy this yummy Persian stew as you gaze upon the magnificent exterior design of the hotel. The earth's spin around the sun seems ineffective on the garden because, no matter of the season, the leaves of the trees don't budge to changing their colors.
Also check: The best hotels in Isfahan
Abbasi Hotel Rooms
The hotel has around 225 rooms including standard single and double rooms, Cheshm Andaz and Paradise rooms, Qajar and Safavid suites, two and three bedroom apartments. Abbasi hotel's suits on the old wing and the new wing have nothing in common. During the reconstruction of the hotel, the Qajar and Safavid's suits, aka the old wing, were rebuilt with careful attention to the details of the hotel's original design. The interiors of these suits still hold the fundamental elements of Safavid's architecture and exude an air of old aristocracy. Even more, the garden-side rooms give its residents a marvelous view to the turquoise dome of Chaharbagh School. If you book one of these rooms, you are definitely in for a treat.
Also check: architectural treasures of Isfahan
The suits on the new wing, on the other hand, are rather colorless and characterless. It gives out the fact that during the re-creation of this wing, the builders' priorities rested someplace else. But one thing that rooms in both wings have in common, pointed out by travelers in Tripadvisor, is the pillows. The pillows are rock hard and resemble sandbags. If you a sensitive neck muscle, we strongly suggest taking your own small pillow on your trip to Isfahan and using it during your stay in Abbasi hotel.
Also check: top things to do in Isfahan
Restaurants, Coffee Shop, and Breakfast
An excellent breakfast is included in any type of room or apartment reservation in Abbasi hotel and served in the breakfast hall ornamented with portraits and designs of Gol va Morgh (flowers and birds). These masterpieces are the artwork of famous artists Rashtian and Master Ebrahim Jabbar Beik.
Also check out: 3 days guide for traveling to Isfahan
Abbasi Hotel has six restaurants, including a coffee shop, a traditional tea-house, and the mentioned breakfast hall. Chehelsotoun and the traditional restaurant are ready to fill your soul with subtlety and your bellies with delicious food. The staffs are all professionally trained and the Persian foods are served in style. Popular Persian ingredients such as Saffron, barberries, and pistachios are you used in creating Abbasi hotel's exquisite Persian cuisines. And, if you are into having a relaxing time in the courtyard sipping some tea or coffee alongside a nice piece of cake, don't be worried. The coffee shop, located in the courtyard, has an interesting menu that can really get your attention. also check out: cheap hotels in Isfahan
Parking Lots 
As employees of a caravanserai, Abbasi hotel staff used took care of not only the travelers but also their rides which, back in the old days, were mostly camels or horses. However, this is still the case with two indoor and outdoor parking lots being added to the complex and professional staff. The outdoor parking lot has a capacity of 137 and the indoor one can hold up to 51 cars, bringing the sum up to near 200 making sure you will never face a parking space shortage during your stay time in Abbasi hotel. for more information about traditional accommodations in Isfahan, check out this article: traditional hotels in Isfahan
How to book a room in Abbasi hotel
As explained in another peace, booking a hotel in Iran can get very confusing and frustrating, especially if it's your first time traveling to Iran. The safest and fastest way to book a room in this marvelous hotel is through a travel agency like 1stquest. This website offers the best tourist lodging solutions to incoming enthusiasts and helps them during the process until they arrive at their destined hotels. Abbasi hotel has its own pick-up service that can transport you from almost any airport in Isfahan to the hotel. However, the pick-up transfer service of 1stquest.com alongside its flight booking, Iran visa, hotel booking, and many other services can be the handy package you missing from your plans to travel to Iran.
[Total: 10 Average: 4.7/5]