If you're planning your trip to Oman, you're probably wondering about the main highlights of this beautiful country that you definitely need to visit during your stay.
We don't blame you! Oman has so many historical and natural attractions that it might be hard for you to come up with a plan and know where to start, especially if you're a first-time visitor.
But no need to worry, we're here to list all the places that you need to visit in order to make the most our of your trip.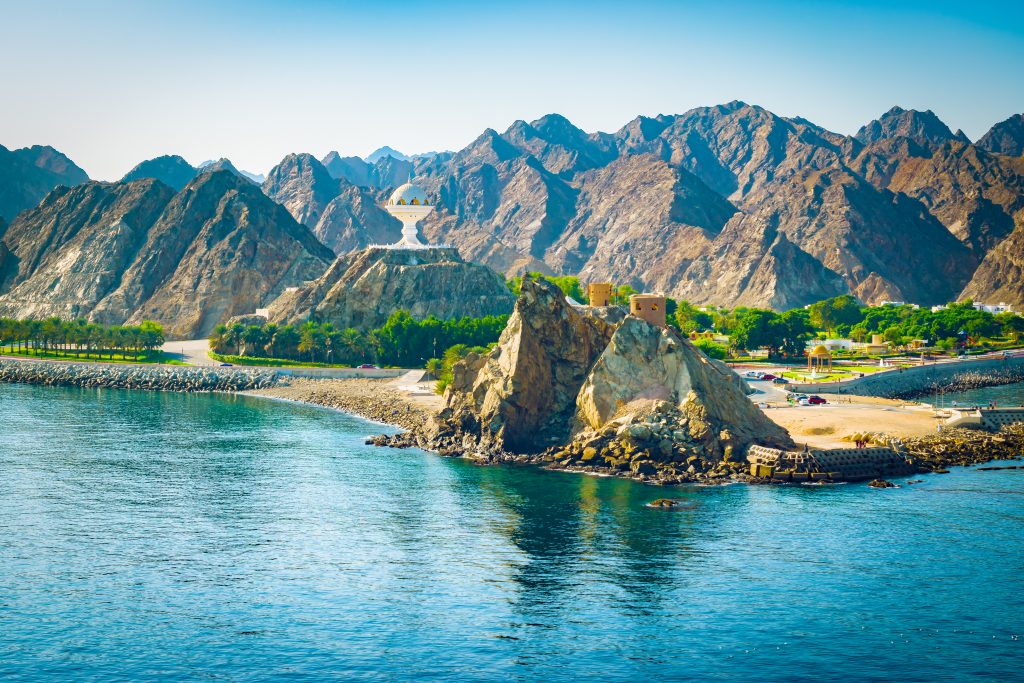 1) Sultan Qaboos Grand Mosque
Your visit to Oman wouldn't be official without stopping by this fascinating place. Sultan Qaboos Grand mosque is located in Muscat and it's the biggest mosque of Oman which has took 6 years to be built.
The second-largest chandelier in the world, weighing around 9 tons and decorated with 600,000 Swarovski crystals, is hanging in its praying hall. This chandelier is so big that it is almost the size of a small house!
Another interesting thing you can find in this place is the second-largest carpet in the world which has been woven by hundreds of artists specifically for this mosque.
Both the chandelier and the carpet has once been the largest in the world, but they have ranked down to second after a mosque in Qatar has entered the game!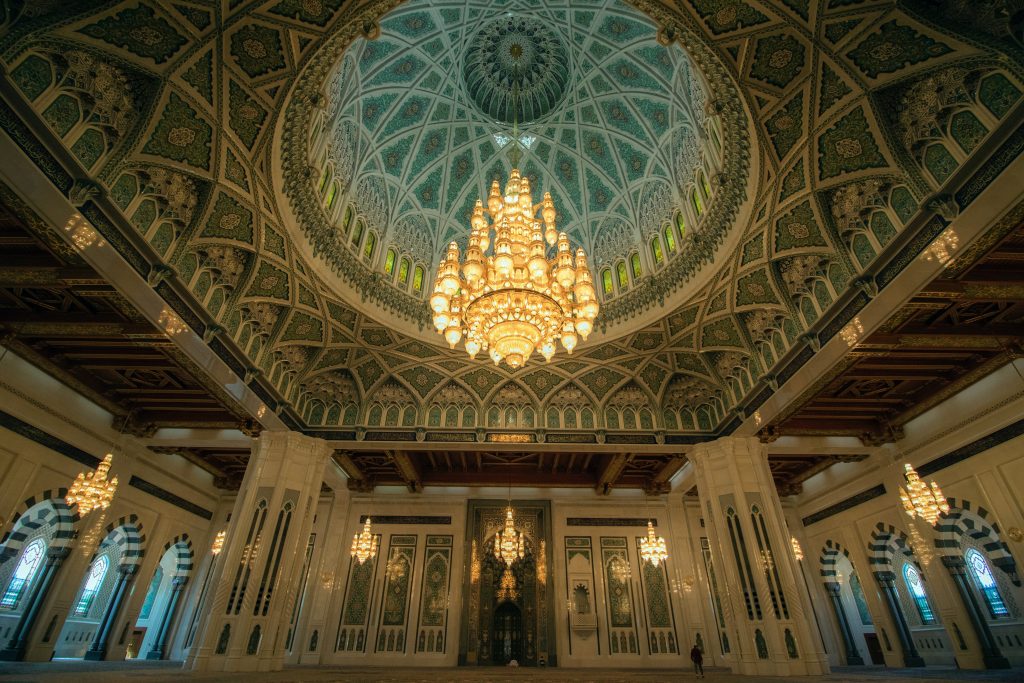 2) Muttrah Souq
Muttrah Souq (Bazaar) is a traditional Omani market which is located in Muttrah Corniche, Muscat.
This souq is around 200 years old and is famous for its maze-like and dark alleys. This place is great for anyone who is looking to buy some local and traditional Omani products such as clothing and accessories and is a perfect place for getting souvenirs for your friends and family.
By the way, don't forget to shop for some famous Omani Frankincense while you're there!

3) Nizwa Fort
Next place that you definitely need to stop by, is Nizwa fort which is about an hour away from Muscat, in Nizwa town. This fort is a great example of Oman's architecture in the old times and has been built in the 9th century.
Nizwa fort is well-known for the cylindrical shape of its towers which has made it very unique, and it also has the biggest tower among all the other forts you can find in Oman.
While you're there, make sure you don't miss climbing the tower to get a view of the beautiful Hajar Mountains.
There is also a very famous souq around the fort which is a great place for grabbing some local goodies.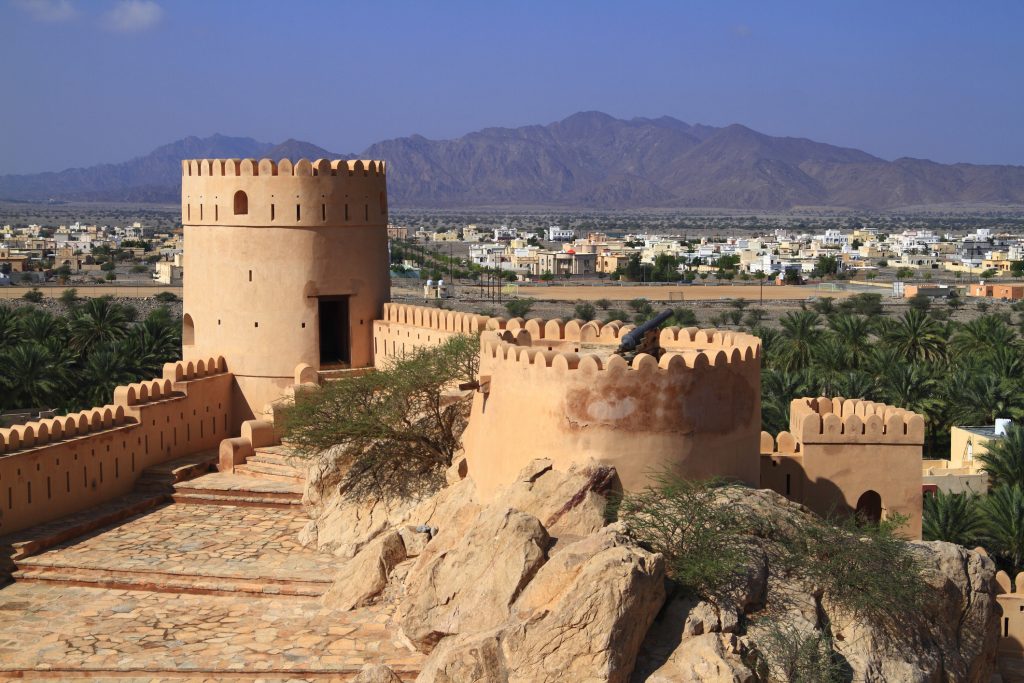 4) Jebel Akhdar
Another beautiful attraction to visit in Oman is Jebel Akhdar, meaning the green mountains.
Jebel Aakhdar is known for its ancient villages, rose-water, breathtaking views and amazing wadis. Also, it is believed that this place has the best pomegranates in the entire world!
Jebel Akhdar is a must-see for adventure lovers and is a great place for camping and hiking. But keep in mind that it can only be accessed by a 4WD vehicle.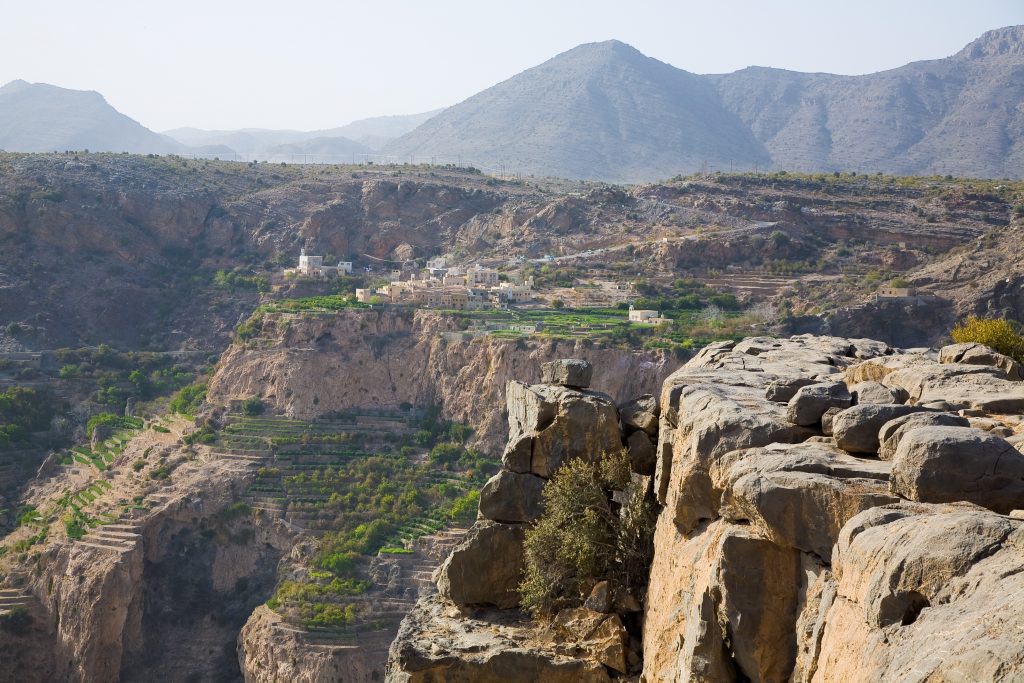 5) Wahiba Sands
Exploring Wahiba sands desert is a must, if you are looking to have some great adventure during your trip.
This desert is famous for its orange sand dunes and some of its dunes are so tall that they reach up to 100 meters high.
This has made it a great place to experience some dune bashing, camel riding, sand boarding, and desert trekking! Wahiba desert is also an amazing place for watching the sunset, staying in Bedouin camps, and relaxing under the twinkling stars, so we recommend you to have an overnight stay there.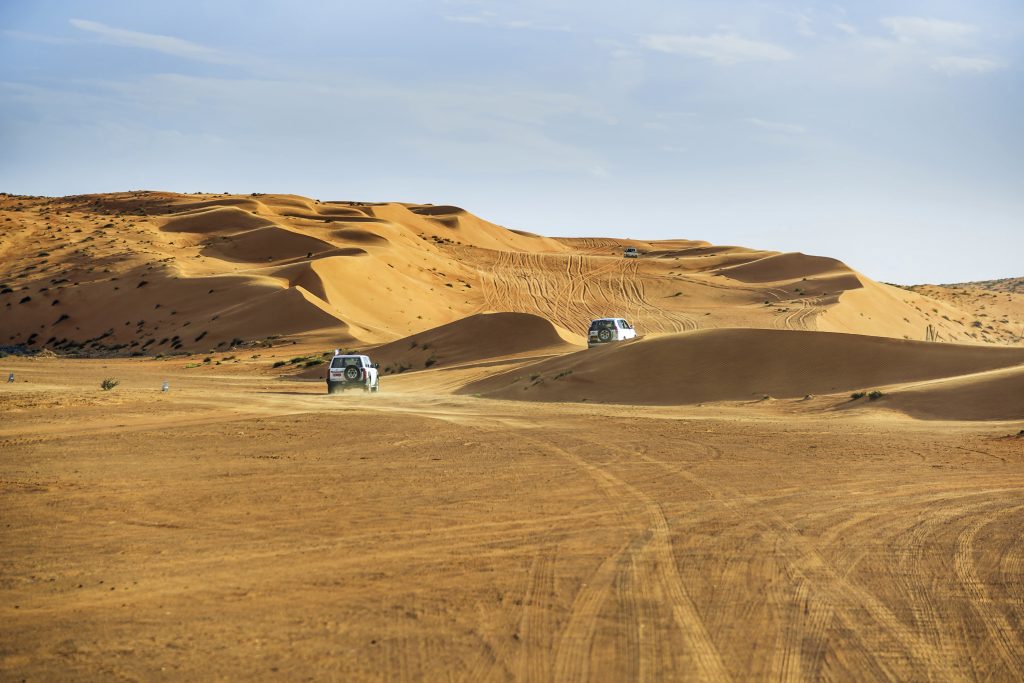 Contact our support team for hiring your local guide.
6) Jibreen Castle
Jibreen castle has been built in the year 1670 for Sultan, and is located in Bahla town. This castle is known for its chambers, beautifully-painted ceilings, and Arabic calligraphy which has been written in its arches and has once been a very important center for studying and learning about Islamic laws, astrology, and medicine. Therefore you can find so many rooms and classrooms in this castle.
But there are two rooms in this castle which stand out from the rest:
First is the "Sun and Moon" room which was used when sultan wanted to meet with important people and this is the room which is filled with Islamic calligraphy all over the ceiling.
The other is the "Protection" room which was used when sultan wanted to meet someone who he didn't trust completely. Sultan's soldiers used to hide underneath this room during these meetings to make sure they are ready to help protect sultan, in case something happened!
7) Wadi Bani Khalid
If you want to relax and have a swim in emerald-green waters, our suggestion to you is no other than Wadi Bani Khalid. This wadi is an amazing place with palm trees, mountains, pools of water, and it also has a very nice, tropical climate.
There's a short walk to get to the water, so make sure you wear the right kind of shoes because the rocks could be slippery. Also keep in mind that women can't wear bikinis for swimming there, so don't forget to pack some shorts and t-shirts instead.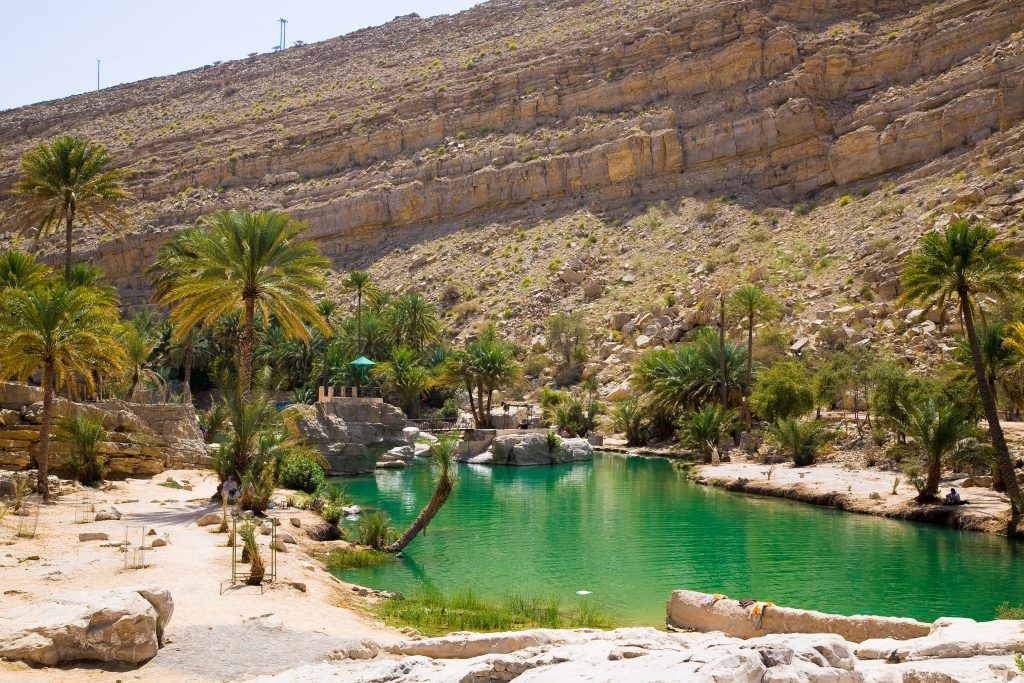 8) Wadi Shab
Another beautiful Wadi in Oman with waterfall caves, pristine water, and deep canyons is Wadi Shab. This wadi is perfect for those who are looking to hike and swim, and is easily accessible. However you need to get on a boat to get to the wadi itself. After you get off the boat, the hiking begins! So be prepared and don't forget to wear suitable shoes. It takes about 40 minutes for you to get to the place in which you are allowed to swim and the good news is that the water there is warm and pleasant even during the winter!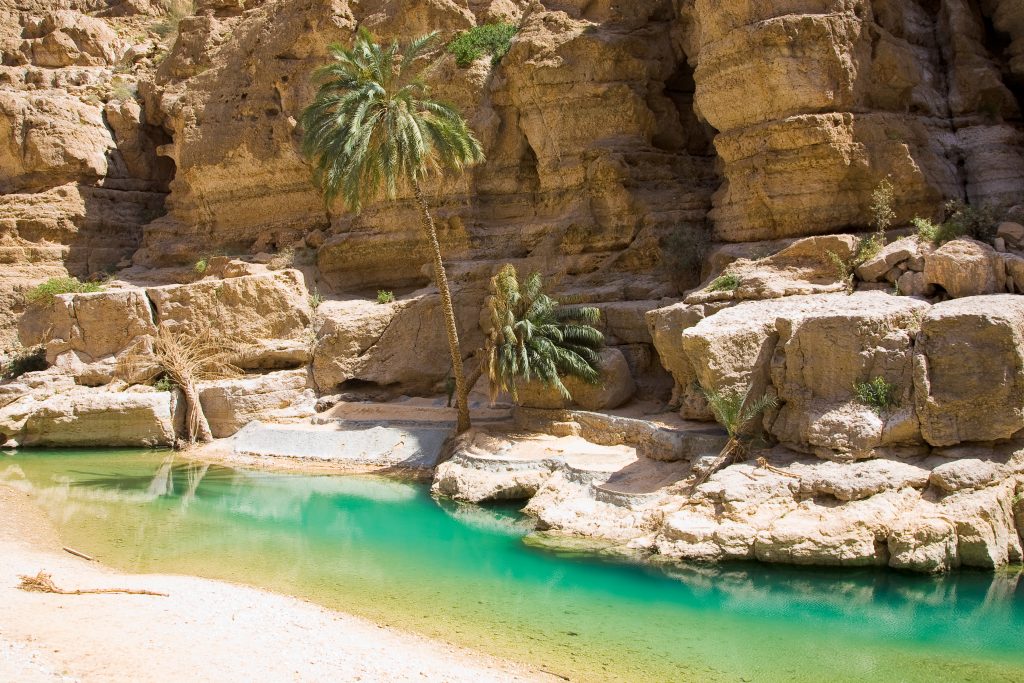 9) Sur
Sur is a port city and it has once been one of Oman's most important cities thanks to its position as a trading port.
This city has many interesting attractions that definitely worth a visit including Bilad Sur Castle, Al Ayjah Fort, and Sunaysilah Fort. Also don't miss visiting the lighthouse, Fatah Al Khair dhow yard, Corniche, the beach, and the old town of Sur. You can also see the turtle reserve of Raz-Al-Jinz and if it's the right time of the year (around September), you'll get to see the turtles laying their egg there.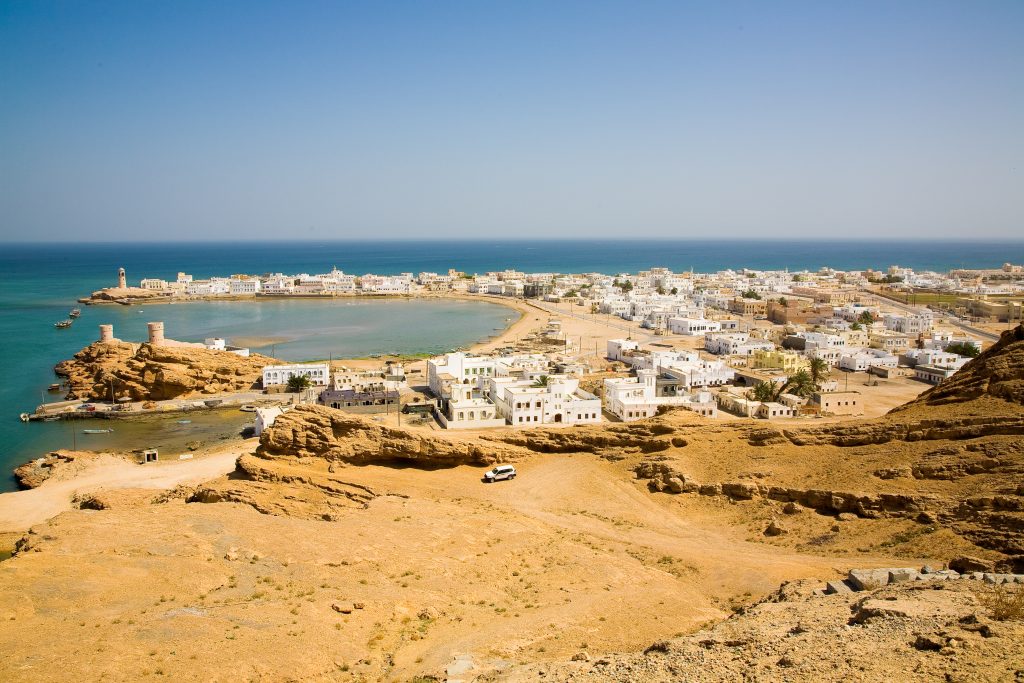 10) Misfat Al Abriyeen
Misfat Al Abryieen is an ancient, mountainous village in Oman which is famous for its agricultural terraces (including bananas, papayas, mangos, and palm trees), beautiful alleys, and mud houses.
These traditional houses had been built on solid rocks and are a great example of authentic Omani lifestyle in ancient times.
Another interesting thing you can find there, is the famous irrigation system of "Falaj" which consists of man-made channels connecting to a spring and these channels are totally visible in some parts of this village. By the way, it's a great place for those who want to go for some hiking.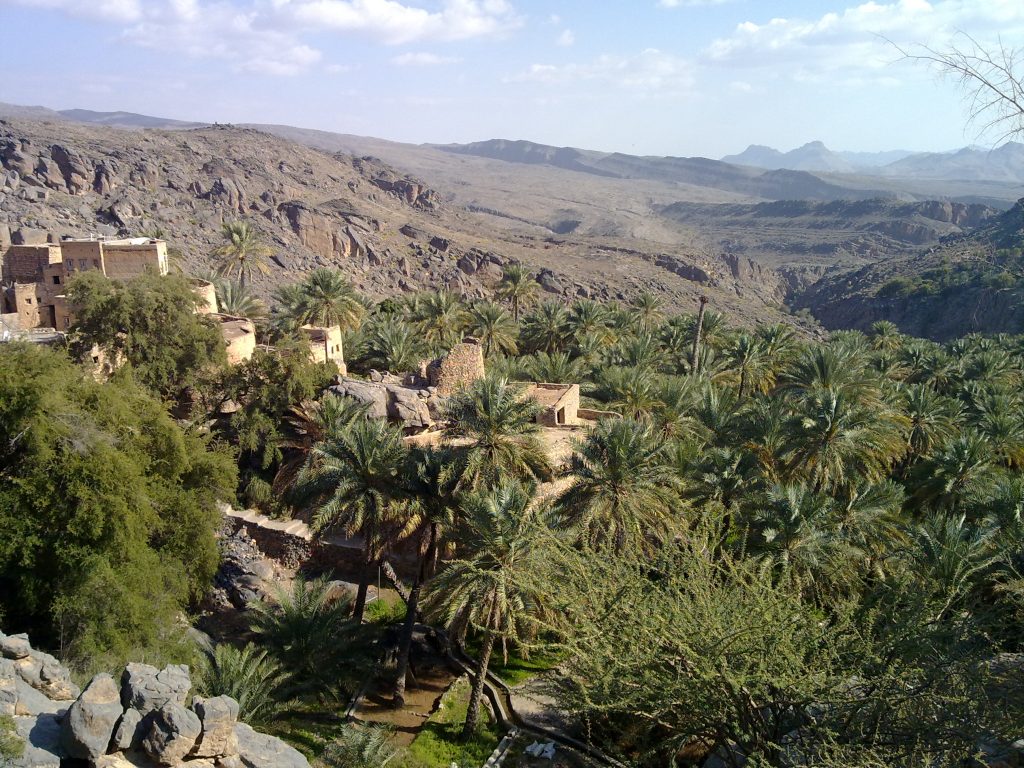 Have you checked out our Oman tours and experiences? Click here to book them for your upcoming trip.