Isfahan, "Half the World" or "Nesf-e Jahan" a boast of pride cause of its infinite number of mosques, gardens, bridges, and palaces, is a treasure box of unique vintage hotels with immeasurable historical and cultural values to the Iranian people from which many are globally famous and bring a lot of attention to the land of Persia. Hotels in Isfahan, scattered all across the city, are remnants of the antique buildings some old enough as the invention of the first car. At these hotels, tourists and guests are treated to the highest hospitality standards and set off to their hometown with such unforgettable memories that no other hotels in Iran can hope to compete with.
In earlier articles, we took a sneak peek at some of the loveliest hostels in Isfahan and the amenities they offered their guests. While Hostels in Isfahan are the best budget accommodation options for backpackers, larger families, and general wanderers who think that a penny saved is a penny earned, gracious luxurious hotels in Isfahan are suitable for those interested in having a more sumptuous stay in the city that holds half the world's heritage sites. We are going to kick off this list with the most exotic hotel in Isfahan, the one and only Abbasi Hotel.
Abbasi Hotel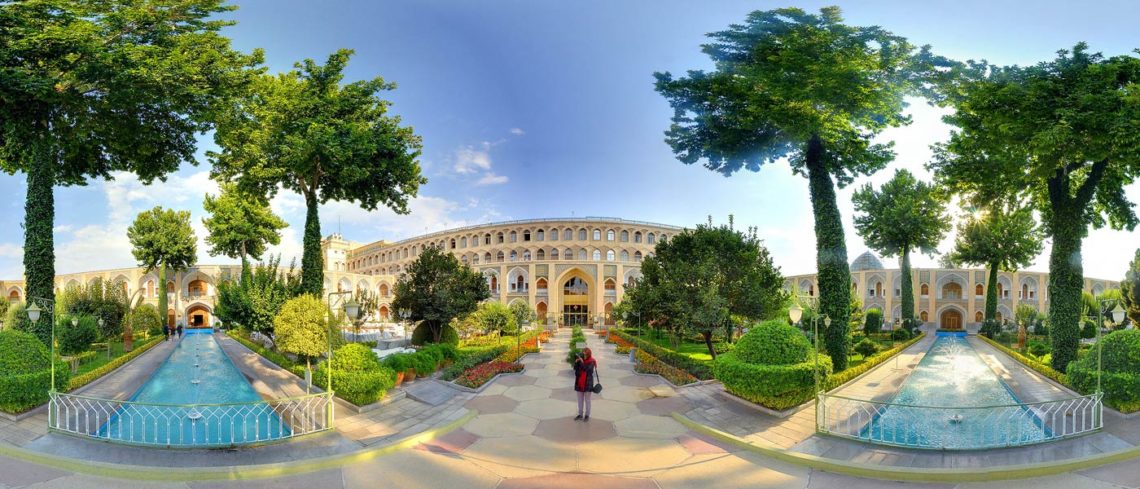 The oldest hotel in Iran stands tall and unchallenged in a pool of historical sites and buildings in Isfahan right at the city center. Without the slightest doubt in our mind, the first place in our list of Hotels in Isfahan goes to this sybaritic monument that bewitches any beholder. If you decide to travel to Isfahan, you must book a room in the Abbasi Hotel and don't let the high prices keep you back. It has a historical structure with a view of dome and minarets of Chahar Bagh School and includes images from the grandeur of Islamic architecture and the eloquent artistic designs carved on the forehead of the lofty walls and verandas.
This hotel is where you get top-end amenities and services unmatched by any other hotels in Isfahan. The exalted beauty of the hotels interior design and architecture is a second journey for all the guests; the first one being the discovering of two-times capital of Iran called Isfahan and the second one going deep into the minds and thoughts of masterful artists responsible for such a splendid heritage site.
Named by CNN channel as the most astonishing hotel in the Middle-East, Abbasi hotel showers its guests with natural beauty and astonishing services.
The main building of one of the best hotels in Isfahan, which used to be the caravanserai of Chahar Bagh, is located around the main garden of the hotel, gifting some of the rooms with a view of a true authenticate Persian Garden. The rooms of this 300 years old mansion are categorized into standard, Cheshmandaz, and Paradise rooms accompanied by Qajar and Safavid suites. The main structure of some of these rooms belongs to the Safavid-era and its architecture is inspired by that era too. The mixture of plasterwork, illumination and vaulted walls create a unique overall atmosphere. Wall paintings and glittering gilded ceiling work are examples of magnificent art designed by various artists. All of these fully-furnished units are equipped with a variety of amenities and facilities such as en-suite shower, dressing room, LCD television, hairdryer, safety box, fire extinguishing system, coffee, and tea maker. Abbasi hotel may be old but don't let that fact fool you because the high-speed Wi-Fi internet connection accessible to all guests is your bridge to the outside digital world where you can share your unforgettable experience at Abbasi Hotel with your friends and family on the social media.
Magnificent restaurants, traditional dining rooms, and a traditional teahouse, each with their outstanding and persistent designs, create the atmosphere which takes you back to the memorable past. Also, this hotel, which has recently been renovated, offers a sports center with pool, sauna, gym, Jacuzzi and massage service for a more enjoyable stay. Hotel ground represents the classical Persian garden which has a reputation all over the world. The scenic view of the Chahar Bagh School's dome as well as beautiful trees and garden create a peaceful and delightful environment. Recently, the entrance fee has been removed. Therefore, from 5PM to 10PM you can enter this magnificent hotel and walk around the classical Persian garden of Abbasi hotel for free.
Ghasre Monshi Hotel Isfahan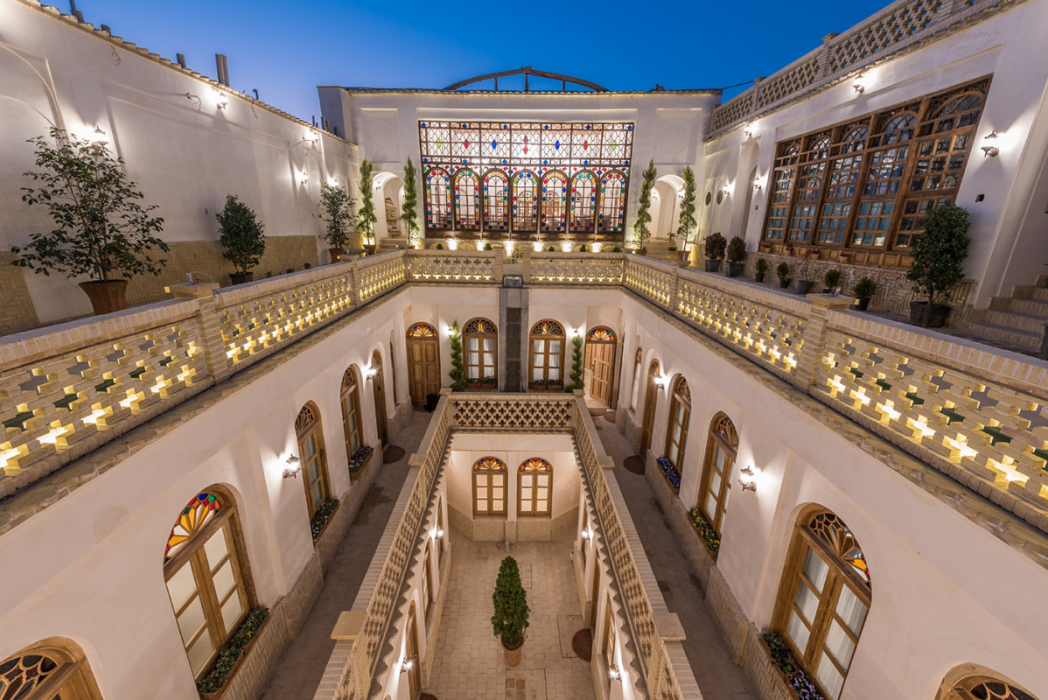 Another masterpiece from the Qajar era, Ghasre Monshi Hotel is a palace disguised in the exterior of a hotel in Isfahan. This magnificent hotel used to be one of Fathali Shah's few houses in Isfahan and is of great historical importance to the people of the city and enchants the guests that choose to spend their nights in this astonishing 4-star hotel. As one of the most luxurious hotels in Isfahan, Ghasre Monshi is the perfect mixture of romance and history that can take young couples to an unforgettable fairy tale while they stay in Isfahan and dig around the hidden beauty of the city.
The hotel is conveniently located on Neshat street, in the historical texture of the city and just a short stroll through the Ghasre Monshi alley, which hugs the main building of the hotel, takes you straight to the Grand Bazaar of Isfahan. This part of the city is flocked with Isfahani artists ready to put up their show next to small cozy cafés and traditional restaurants tucked into the heart of the ancient walls stretching over the paved sidewalks. After a short walk to the Bazaar, the World Heritage Site of Naqsh-e Jahan Square lies only a few meters away in all its glory and grace. Be on the watch for a Zoorkhaneh (traditional wrestling and Persian sports gym) on your way to the square, because you don't want to miss one of the most amazing Zoorkhanehs in the world.
To boost up your excitement about one of the best hotels in Isfahan, you should know that only 600 meters to the south of the hotel rests Zayanderud, the most important and famous river in Isfahan and the province, with extraordinary heritage sites such as the See-O-Se Pol (33 bridges), Pole Khajoo, and the park on the river bank that provides cool weather and shades for family, friends, and tourist to spend their afternoon in. Also, Ghasre Monshi is only 6 minutes away from Naghashi intersection bust station and taxi stands.
As for amenities, facilities, and services offered by the hotel, nothing has been overlooked. Their cozy rooms are beautifully decked and equipped with basic furniture, and a mini-fridge, an en-suite bathroom with a shower, all the necessary toiletries, a tea maker, a safe box, a TV set, and all units offer a quite unique view of the courtyard to their residences. Despite being constructed back in 1820 AD, the hotel has been renovated in recent years to make it more convenient and up to today's tourism needs and also to be kid-friendly. Children between 3-8 can stay and only pay half. You can enjoy high-speed Wi-Fi throughout the hotel. There is a cafe where you can treat yourself to a drink or snack. Other amenities are the western toilet, indoor fridge, and phone. Also, breakfast is complimentary. Other amenities and services offered by the Ghasre Monshi include transfer services, traditional bathhouse, 24/7 reception who speaks fluent English, concierge, dry cleaning, and a dedicated parking space.
Persian cousins and especially traditional dishes of Isfahan are served delicately in the hotel's traditional restaurant. If you are a vegetarian there is no need to worry, there are special food for you on the menu as well.
Also read : Closest Hotels to Naghshe Jahan square Isfahan
Piroozy Hotel Isfahan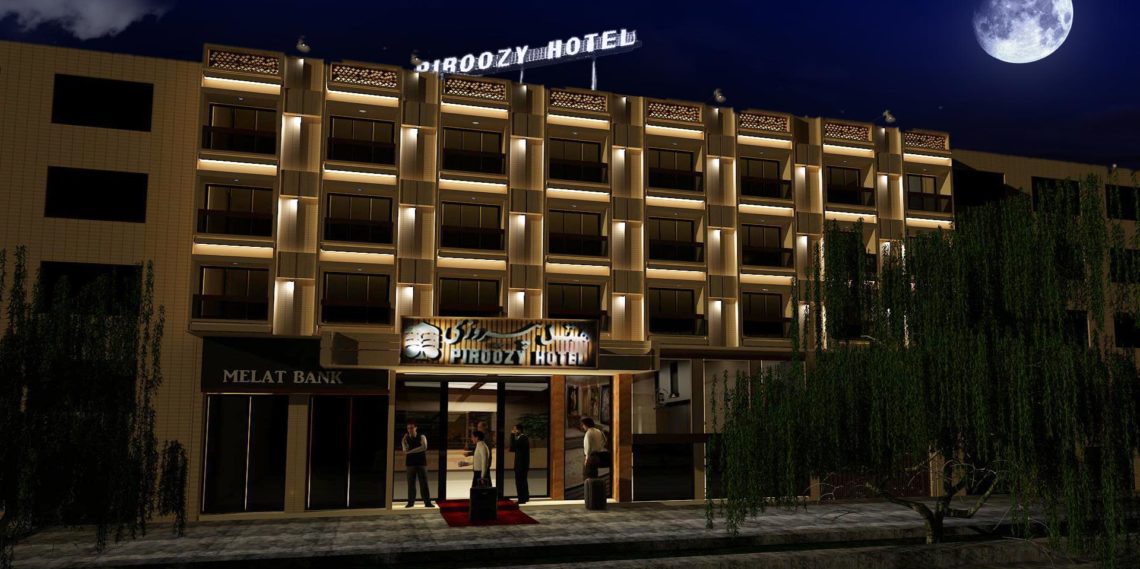 Compared to other hotels in Isfahan, say Abbasi Hotel or Ghasre Monshi Hotel, Piroozy Hotel Isfahan is modern with more European style than Abbasi Hotel or Ghasre Monshi. This is a reasonable 4-star hotel at Chahar Bagh Paeen street in Isfahan with major tourist attractions such as Chehel Sotun Garden, Si-o-Se Pol Bridge, Imam Mosque, Ali Qapu Palace, City Center, Shaking Minarets, Hasht Behesht Garden, and Naqsh are in the vicinity.
The big cozy rooms of this hotel are the perfect embrace after a long fatiguing city tour of the most historical city of Iran are welcoming grace with free Wi-Fi internet access, free breakfast, a minibar, a flat-screen satellite TV, desk, hairdryer, en-suite bathroom, and air conditioning that are masterfully sorted inside the unit alongside a comfortable bed. This hotel offers non-smoking rooms, suites, and family suites. here a total of 96 rooms in the Piroozy Hotel. Most of them are double rooms available for 1-2 persons. The rest of the rooms are single rooms, triple rooms, and royal suites. The in-house restaurant serves local specialties and a selection of international dishes. Besides, the hotel offers a coffee shop and room service is available. Other facilities include a conference hall, parking spaces, and taxi service. Isfahan International Airport is approximately 30 km from the hotel.